Note from Josh: From time to time I like to share stories of those other than myself who have traveled to Xinjiang, not only because each person has their own unique perspective but also because some people have a natural ability to create a beautiful word picture.
Are you considering traveling to Sayram Lake sometime in the future? Then I think you're going to love this story by Robert Warnerford-Thomson. He spent time as a teacher here in Xinjiang and I thoroughly enjoyed his experience that you're going to read below.
Toward the end, there's also some practical advice for planning your own trip from Urumqi to Sayram Lake. This includes a plug for the awesome FarWestChina Xinjiang Travel Guide. If you're planning a trip to Xinjiang, this is a must-have resource!
Journey to Sayram Lake 赛里木湖
The smooth black-top snaked its way into Guozigou (a name that translates as Fruit Valley), a rocky alpine pass climbing from the fecund Ili Valley to Sayram Lake at 2000m above sea level, where the road goes on to the Junggar Basin and Urumqi, the provincial capital of Xinjiang.
The road was brand new, completed in 2011 and one of the outcomes of the Great Opening to the West, Beijing's strategic initiative inked in 2000 to bind the backward west with the prosperous east.
This is the new Silk Road, resurrecting the trade route that literally put this region on the map.
In the 1980's Deng Xiaoping shrewdly focused on first developing manufacturing hubs in the eastern coastal plains, which would grow into the booming China megacities of today. For the next twenty years China's west was largely left alone to focus on agriculture, mining, and oil. However by the turn of the millennium rising wages in the east, coupled with Beijing's need to better manage the often restive yet strategically critical far-flung regions of Tibet and Xinjiang were among many factors guiding this recent policy shift.
The road followed the valley's contours and occasionally tunneled for stretches through the fiery-hued rock, culminating in the grand Fruit Valley Suspension Bridge. This would seem out of place in this remote corner of China, until you remember this is now a vital artery for trade, funneling goods and raw materials to nearby Horgas Land Port, the special trade-zone set up with neighboring Kazakhstan. This is the New Silk Road, resurrecting the trade route that literally put this region on the map.
Guozigou Bridge (photo credit: davidwqqi)
Soon we were gliding swiftly across the massive bridge over a valley which must have taken the Mongols days to negotiate on foot. From the middle you are afforded a spectacular view down the eye of the valley.
Sayram Lake is the largest alpine lake in Xinjiang
Leaving the bridge the road dives straight into the rock face, which threw our cab into the intermittent strobe of the sodium lighting above, making our Hui driver's distinctive white pillbox hat flash orange. Two hundred meters later we emerged from the tunnel right by the side of Sayram Lake, known in China as Salimu Hu 赛里木湖.
Sayram Lake is the largest alpine lake in Xinjiang, covering an area of 458 km2, nestled between mountains that direct run-off into the lake and ensure a steady water supply. The local Kazakh population regards it as sacred for its deep-blue fresh water .
The highway hugs the southern rim of the lake after exiting the mountain, passing a sooty breezeblock structure in an advanced state of decay that has been set up as Sayram Lake's tourist rest stop. The road continues on until breaking off from the lake's eastern edge onto the desert valleys towards Bole and Jinghe beyond.
South of the highway wide grassland slopes gently up for a mile to a dense band of pine trees. The trees cling to a steep bank a few hundred meters up to a 3000m ridgeline of anemic grass and crumbling rocks. From the top panoramic views of the lake are to be had looking North, and to the South the harp-like bridge can be seen ferrying traffic over the valley.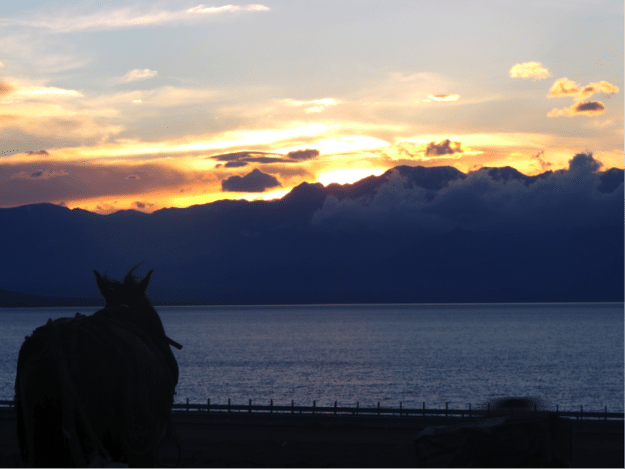 Sayram Lake at Dusk by Robert Warnerford-Thomson
Our first two days by the lake were relaxed, filled with some walking and a guided horse trek up to the windy ridge overlooking Fruit Valley. The holiday season was in full swing, and the shabby complex near the tunnel entrance was bustling with Chinese tourists snapping pictures, examining precious rocks from the lake for sale, and paying a few yuan to pose next to colorfully-attired camels for their culturally-mandated, impressively exhaustive photo ops.
You are liable at any time to be attacked by touts on horseback
The local Kazakh population also swells seasonally with the tourist influx, and you are liable at any time to be attacked by touts on horseback, who race towards you then rear up athletically, shouting loudly in mangled Chinese about horse rides, yurt accommodations, and food.
When several sidled up at once, you could be mistaken for thinking you were about to be held up, their swarthy grinning expressions looking you over as their mounts huffed impatiently underneath.
At those moments I was grateful that globalization had made its way to these remote parts of the world, investing me with more value as a customer than a victim. A few hundred years ago that might not have been the case, when sacking the passing Silk Road caravans plying the route to Xian was a way of life in the region.
Impromptu Kazakh Wedding Party
On our second night at the lake an American friend named Will joined us. He'd tried to ride his motorcycle from our town near Urumqi, but had broken down in the middle of the desert and had to hitchhike the rest of the way. By the time he arrived he wore the sapped look of a foreigner after a long day in China.
Nevertheless we were in good spirits. Our host, Mulaty, a college-aged guy whose parents owned the yurt we were staying in, had invited us to a Kazakh wedding party that evening, and that tomorrow there would be a horse race and a game of Buzkashi to celebrate the occasion tomorrow.
A large crowd of people gathered…briefly lit up by gyrating disco lights run from car batteries
Later that night, after consuming a couple drinks, we walked to the wedding area, which was just a short walk over the next rise in the grassland. As we approached it was already dark outside, and the stars shone brightly, contrasting the impenetrable black orb of the lake to our left.
The wedding party was centered on a cluster of three yurts. A large crowd of people was gathered outside them, briefly lit up by gyrating disco lights run from car batteries nearby. The boisterous yelling and loud thumping dance music grew louder as we approached, working our way around the scattered horses and motorcycles belonging to the guests.
The music was coming from a booth at the entrance to one of the yurts, with a traditional turntable setup. The DJ was a smiling older gentleman wearing a circular felt hat and a long duster, clearly having a great time choosing the records for the throng in front of him.
The dancing was free and uninhibited, resembling to me what disco would look like with more jumping and primal yelling. The dancers seemed to be a mostly younger crowd, while the more elderly guests circled the group looking on.
Our partners were drop-dead gorgeous…wouldn't look out of place on a catwalk in Milan.
Being foreigners—and therefore honored guests—we were thrown into the middle to join the dancing. Mulaty's friends immediately encouraged Will and me— with all the subtlety of a hard shove— to dance with the women. We were surprised to find that our partners were drop-dead gorgeous, with slender frames, pale features and dark eyelashes that wouldn't look out of place on a catwalk in Milan.
Will cautioned me that they were probably taken, and we were being egged on in the hopes of triggering a fight for the party's entertainment. I glumly agreed with him, awkwardly shuffling while the speakers hummed, belting out a bass-heavy pop song with what seemed to be a sitar solo.
Apparently we had arrived close to the end of the party, and as the song ended we stood there wondering what was happening the crowd slowly dissolved back into the surrounding darkness. We shortly followed suit and began the walk back to our yurt.
On the way I remarked to Mulaty at how beautiful the women were, to which he laughed. "They're all married. If a girl is attractive, she's probably already married." Mulaty was a realist.
---
Thanks to Robert Warneford-Thomson for sharing his experience in Xinjiang. Have you traveled to Sayram Lake? Share your experience in the comment section below!

Travel Tips: Urumqi to Sayram Lake
Interested to travel from Urumqi to Sayram Lake? It's quite simple, really.
Transportation: Although there is a train that goes from Urumqi to Yili (passing the lake), the best way to see Sayram Lake is either by bus or taxi. Buses leave Urumqi daily and are your cheapest option at only a couple hundred yuan. Taxi's are much faster and convenient, but you'll pay between 400-600 RMB per day.
Accommodation: As far as accommodation goes, you'll regret it if you don't stay in a Kazakh yurt. There will be plenty that line the lake and they will vary in price. I've stayed in one for 50RMB per person but I've also heard of others paying more than 100RMB. Be prepared to negotiate. If you must, there are hotels further down the highway.
Tour Groups: Finally, there's the option of just joining a Xinjiang tour group. You relinquish your freedom but enjoy a stress-free day at the lake. Your choice.
If you have any questions, feel free to ask in the comments below. Thanks as always for reading!