Border crossing from Xinjiang into other countries in Central Asia isn't necessarily difficult, but getting reliable, up-to-date information is. Take the Irkeshtam border crossing for an example – it's one of the most common ways to travel from China to Kyrgyzstan and yet I have a hard time finding any published info on the process.
Thanks to the input of several travelers, I would like to present a simple "how to" to make crossing the Irkeshtam border easy for future travelers.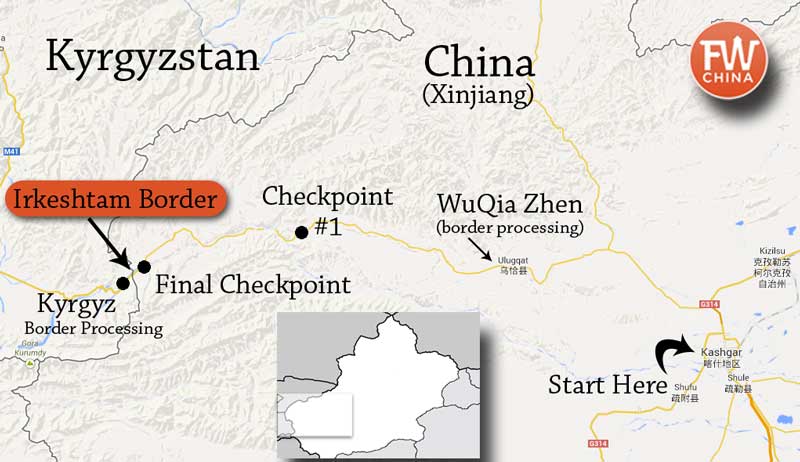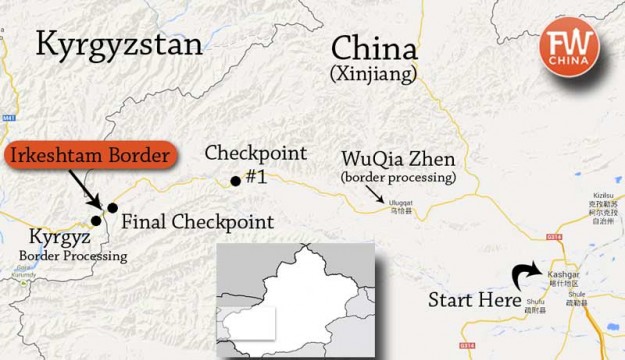 *Special thanks to Sim Yi Hui and Jon LaRosa as well as Lee and Galen from Silk Road Hitchhikers for their contributions to this article.
Irkeshtam Crossing from Kashgar
Most people base their journey into Kyrgyzstan (吉尔吉斯斯坦) from Xinjiang's western city of Kashgar, although technically you could bypass the city and go straight there from Highway 314.
For the purpose of this guide, however, we're going to assume that you're waking up in Kashgar.
The following is an hour-by-hour account of how to find your way across the Irkeshtam border (all times listed are Beijing Time despite the common use of local time around here).
8am – Kashgar: Wherever you decide to stay in Kashgar, most travelers decide to begin their journey at the International Bus station on the northern edge of town. From here you can find taxis that will take you to WuQia Zhen (in Chinese: 乌恰镇, known locally as Ulugqat). Taxis are usually rented for anywhere between 120-150 which, if you travel as a group of four, could be equally split to make things cheaper (this is the case for many places around Xinjiang). The journey should take a little over an hour.
10am – WuQia Zhen: You should arrive in WuQia Zhen early but your goal is to make it to the Chinese Border Processing Center at around 10am. One account of getting here referenced a golf cart that drove travelers from the road to the processing center. Border personnel will arrive at 10am but likely won't begin processing your passport until 10:30am. It is during this time that you need to arrange for a vehicle to take you across the border. It is virtually impossible to hitchhike. A taxi from here should cost about 100RMB per person or 400RMB for the car.
10:30am – Border Processing Center: Once everybody begins working, the actually processing of your passport should take no longer than 15 minutes. At this point you jump into your taxi to begin the journey.
12pm-1pm – Checkpoint: depending on the speed of your driver, you should arrive at the intermediate checkpoint between 12:15 and 1pm. This should't be more than a cursory passport check but don't be surprised if they ask you to step out of the car.
1pm-2pm – Final Checkpoint: An hour after the first checkpoint you'll reach the final checkpoint about 4km away from the Kyrgyzstan border. Unfortunately, like most everywhere in Xinjiang, lunch break starts at 1:30pm and usually lasts until 4:30pm. Unless your driver is particularly speedy, expect to waste a few hours at this final checkpoint waiting for patrol officers to report back for duty at 4:30pm. You should probably have a lunch prepared as all you're likely to find is a small store and maybe a hole-in-the-wall place to grab some food.
4:30pm – Final Checkpoint: At this point a lot of different things could happen. Chinese border guards are unpredictable and could let you right through or give you grief for a few hours. They may take your passport or they may just glance at it. Be prepared for anything. Once given the green light to pass, your taxi is no longer useful to you. One traveler describes having to board a "Chinese big truck" while another describes a "very nice bus". Either way, it seems that transportation to the final 4km to the border is provided.
5:00pm – Kyrgyzstan Border: One traveler describes having to change transport at the Kyrgyzstan border (which he walked across) an then take a taxi to the Kyrgyz customs processing center. The one thing to note with this is that unless you already have Kyrgyz Som (money), you'll probably have to exchange your Chinese Renminbi at the border for a terrible exchange rate.
5:30pm – Kyrgyzstan Processing Center: Unlike the Chinese border crossing, Kyrgyzstan will likely only take about 15 minutes. They will look at your passport, possibly write down the number and then stamp it.
5:45pm – Entering Kyrgyzstan: At this point you have a choice to make, especially after all the travel you've already done. You can try to negotiate transportation to Osh (another 4 hours at least) or you can take a much shorter ride to Sary-Tash (only 1 hour). A shared taxi to Sary-Tash should run you about 60-100 Som (approx. US$1-2 or 6-12 RMB). A shared taxi to Osh will run you between 1,000 to 1,500 per person (approx US$18-28 or 110-170 RMB).
Congratulations! You're now in Kyrgyzstan. At this point you can hopefully find your way to a nice hotel to lay down and rest.
Special Notes | Irkestam Border
There are a few notes and warnings that I want to give for those considering crossing the Irkestam border in Xinjiang. This may not always apply, but it's good to hear what has happened in the past.
First, sharing a taxi with Uyghur passengers could slow you down. It's sad, but it's a fact. One traveler was held up at the border for an extra few hours because his fellow travelers were Uyghur. It's blatant discrimination but as one traveler told me "If you can, try to find Han Chinese to share a car with". Perhaps easier said than done.
Second, cheaper transportation isn't better. It seems that it is possible to hitch a ride to Osh with a truck driver in Kyrgyzstan for half the price of a taxi…but it might cost you an extra 2-4 hours on the road. Is US$10 really worth the headache?
Third, remember the time change. This might not be hard if you've been living off of Xinjiang's "local time" that is two hours behind the official Beijing time, but just remember that once you cross the border into Kyrgyzstan, you're now officially two hours behind Beijing.
Finally, Lee from SilkRoadHitchHikers.com shared with me that it might work best to shift this schedule two hours later (i.e. starting at 10am instead of 8am).
The reason for this is that even though he arrived at the border before the 1:30pm lunch break, they still wouldn't process him to go through. He contends that you might as well just sleep in and arrive around 3:30pm-ish to wait for them to open up again at 4:30pm. Any plan that involves sleeping in sounds good to me!
So that's it! I hope this has been helpful in your planning. If so, please share this or leave a comment below. Thanks!