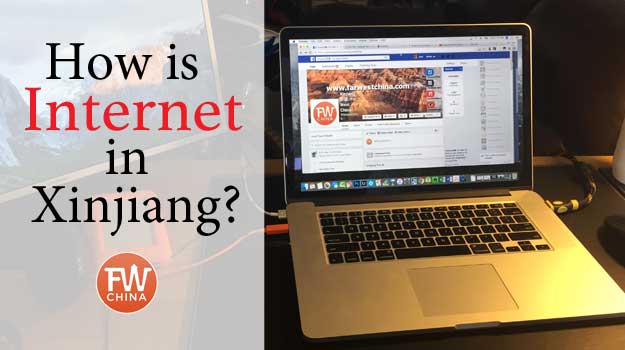 How is the internet in Xinjiang? Super slow? Is it possible to use a VPN while traveling in Xinjiang, China?
These are some very interesting questions I've received from travelers over the years and considering the history of Xinjiang's internet, not surprising.
As part of the ongoing FarWestChina series of Xinjiang travel Q&A videos, I'd like to give you a glimpse of what it's like to use the internet here in Xinjiang and how I'm consistently able to access websites like YouTube, Facebook and Twitter – all of which have been blocked within China.
Oh yea, and in case you were wondering, FarWestChina.com is also still blocked here and requires using a good VPN for China. Bummer.
Internet in Xinjiang?
Take a moment to watch the short video below to get an idea of what the internet is like here in Xinjiang.
Don't miss more awesome videos! Subscribe to FarWestChina on YouTube.
As you can tell, internet in Xinjiang is slower than the rest of China but most everything else remains the same. Most western social media is blocked (Facebook, Twitter, Gmail and Instagram in China) and internet activity is heavily monitored.
Not only that, but different cities – particularly in southern Xinjiang – have different accessibility. You won't read about this in the news, but it's not uncommon for a small county to have it's internet cut or messaging services blocked temporarily.
This happened back in 2009 when all internet and messaging was cut for 10 months. In order to connect with my family back in the U.S., I had to leave the borders of Xinjiang into neighboring Gansu.
So what can you do to make sure you stay connected in China, and particularly out here in Xinjiang?
Tips to Staying Connected in Xinjiang
So what can you do as you prepare to travel to Xinjiang to make sure that you'll be able to stay connected? Here are two tips that can make all the difference in the world:
Discover WeChat: iMessage, Facebook Message and even Skype have not been reliable for me over the years in Xinjiang. Sometimes they work, more often than not they don't (even with a VPN that I will discuss below). If you really want to stay in touch with your family/friends, I unfortunately have to recommend that you consider downloading WeChat (for iOS or for Android). I say "unfortunately" because I don't like being forced to use a Chinese-made app, particularly one I don't trust, but it's the only reliable option. You will have to get everybody you want to communicate with to download the app as well. The good news is that it's a well-designed app that is easy to use, not to mention almost everybody you'll run into in China uses it.

Consider a VPN: One of the best ways to access sites like Facebook, Twitter, Gmail and others is by using what is known as a Virtual Private Network or "VPN" for short. Use of VPNs is ubiquitous across China, not just among expats but even among Chinese and Uyghur. A VPN allows you to tunnel around the censorship to securely experience the internet like you would outside of China. There are free VPN options that I don't recommend (nothing is truly free) and then you can purchase others for anywhere between US$3-$15 per month. It's worth every penny, trust me. I pay for 3 active VPN services just so that I have backups, but that's only because my business relies on accessing the internet. If you're in the market, I recommend ExpressVPN (use this link to get 3 months free!) as a good option here or you can check out my extended article on the Top 5 VPNs for China.
Connect with your State Department: In the extremely rare case that the internet does get cut again such as it was in 2009-2010, there's very little you can do to get around it. Your very best option is to make sure that you're connected with your country's State Department, either by registering in their expat program (for example, the STEP program for US citizens) or at the very least knowing the phone number for your embassy in China (such as what a UK citizen would want). The idea is that if they know something's wrong, they can provide help or at least know your family back at home know you're safe. This is what the US State Department did for me and my family in 2009.
Be Prepared…and Patient
If you come to Xinjiang prepared with communication apps, VPNs and a connection with your State Department, you should be good to go. In every case, you'll also need to prepare an extra dose of patience for those times when the internet is really slow.
I'll tell you what my mentor back in the US tells me: don't worry, it builds character. :)