The tradition of Uyghur paper making in Hotan (Khotan), Xinjiang has been around for more than 2,000 years, and yet somehow it rarely gets a mention in most travel guides or tour packages.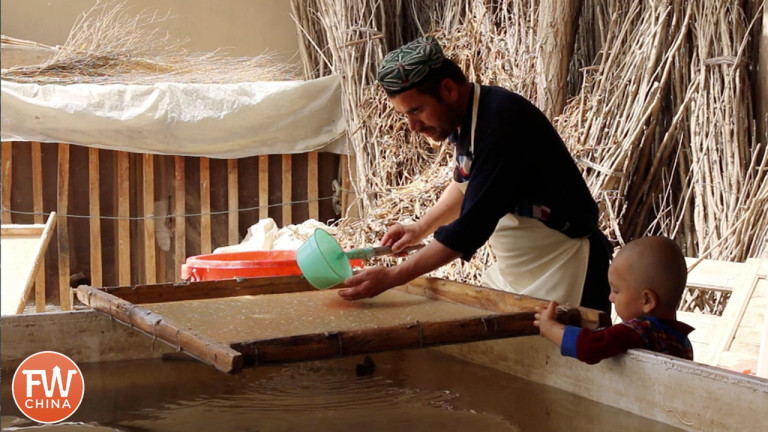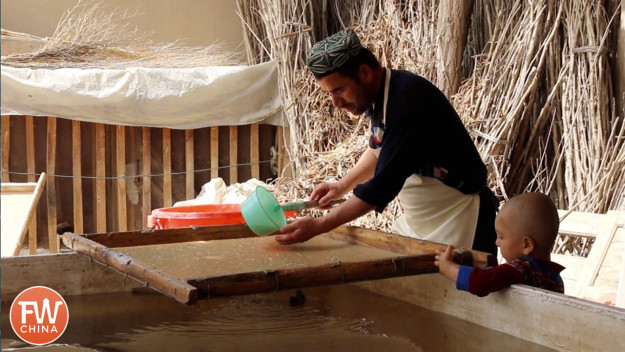 The truth is, if it weren't for government subsidies, this local tradition of making paper from mulberry trees probably would have died off decades ago.
Despite all this, it has been a dream of mine to visit one of the families that still uphold this ancient tradition. Thankfully, my opportunity came this last summer, and I didn't dare forget my camera!
Check out the video below for a visual description of this tradition … and don't forget to give it a thumbs-up if you enjoy!
Don't miss more awesome videos! Subscribe to FarWestChina on YouTube.
Uyghur Paper Making | The Process
The process of making Uyghur paper from the bark of mulberry trees in Xinjiang is both complex and fascinating.
Generations of Uyghur families in and around the Hotan area (aka "Khotan") have passed down the tradition that makes use of the region's plentiful mulberry trees as well as the dry heat.
I learned that paper making using the bark of mulberry trees involves an 8-step process that takes a couple of days and at least 4 people to complete.
Gathering & peeling branches: Branches from mulberry trees are gathered, and the bark is then peeled off, a painstaking task that is done by hand.
Air drying: The bark that has been peeled away is then dried in the hot desert sun for 24 hours.
Boiling the bark: Once the bark has been dried, it is boiled in a large iron pan over an open fire–usually one that is fed with what is left of the mulberry branches.
Pounding the mixture: The soupy mixture that is the result of boiling the bark is then pounded into submission by a wooden mallet.
Fermenting the mixture: After being pounded to death, this clumpy-looking bark soup is left in water to ferment. This word "ferment" is a direct translation of what I was told, but I'm not 100% sure that it means the same thing.
Filtering mixture into a mold: What has now become a weird goo is then pressed into a mold that is basically a square wire mesh. The artisan carefully spreads the mixture out and presses it down into the mesh, removing any large clumps along the way.
Drying in the sun: The wire mesh is placed outside where it will dry in the sun. During most of Khotan's summer, this drying process doesn't take long.
Peeling and preparing for sale: Once dried, the paper is peeled from the wire mesh and prepared for sale.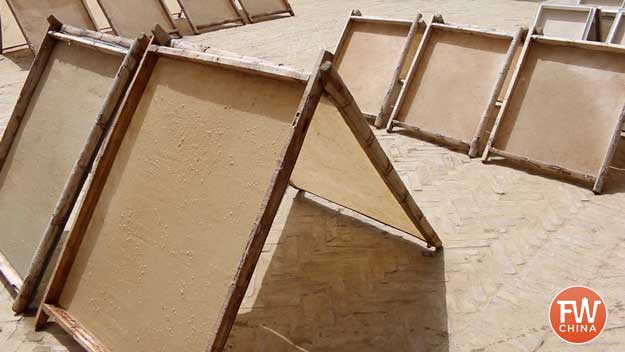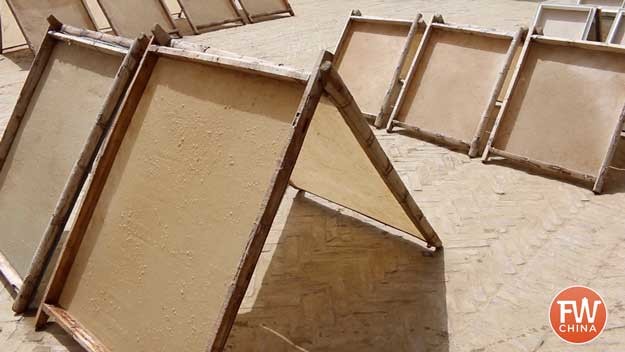 Meet Abdukadir | Uyghur Paper Maker
Paper making has been a part of Abdukadir's family for countless generations. Although there are a handful of paper making families around Hotan, for some reason I happened to meet Abdukadir.
As we sat in the small shop outside his courtyard, he explained with the help of photos how his father had taught him to make paper decades ago. Abdukadir pointed to a number of news clippings that had highlighted his father's apparent skill in the paper-making tradition.
Even now, the tradition is a family affair. Outside, Abdukadir's mother, wife, and daughter all sit in the shade, peeling away bark from the mulberry branches while chatting away. Just a couple feet away his son proudly holds a wooden mallet that is used to pound the boiled bark down.
Paper making is a family business for Abdukadir, and it's a Uyghur heritage that he is proud to carry on.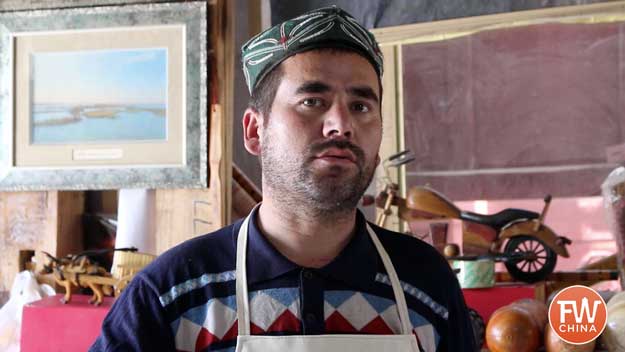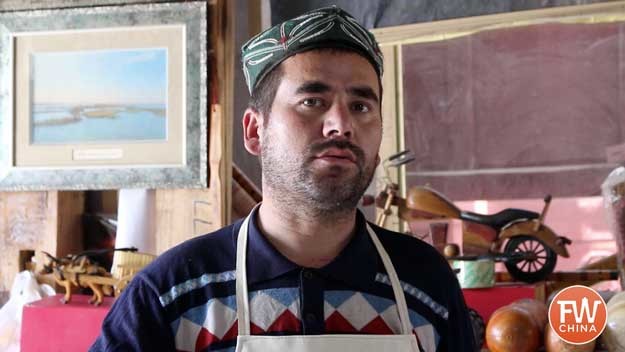 Uyghur Paper | An Undeveloped Souvenir
At the end of my tour of Abdukadir's shop, he led me into his small souvenir store. Inside, shelves on every wall were lined with stacks and stacks of mulberry bark paper.
I was eager to purchase nice travel journals or simple books to give as gifts. It seemed like the perfect Xinjiang souvenir!
But the development of "souvenirs" isn't on Abdukadir's priority list. Loose-leaf booklets and flip books stapled together were the best I could get. Yet somehow they seemed to fit the setting.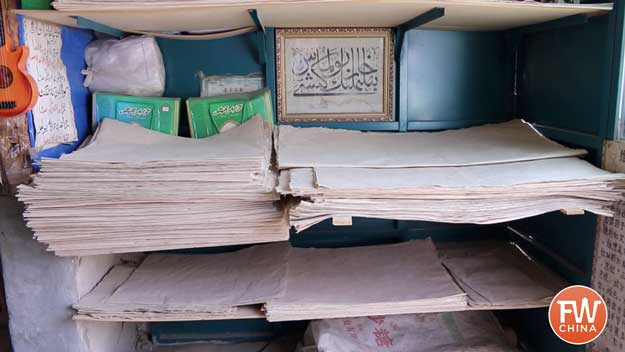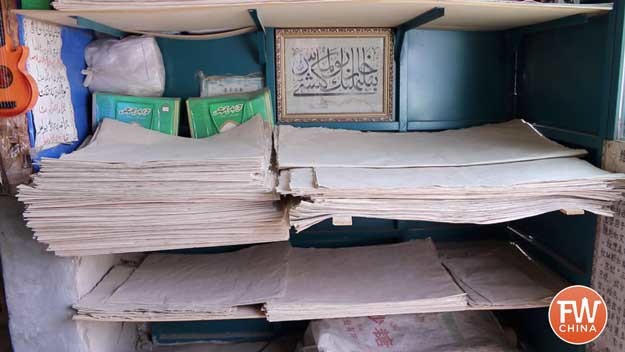 I ended up buying a number of small booklets that were easy to transport back home with me. Best of all, everything I bought was relatively inexpensive!
Each little booklet had a red stamp which proudly proclaimed that this was "和田纸" or "Hotan Paper." Handwritten in both Uyghur script and Mandarin characters is the signature of Abdukadir.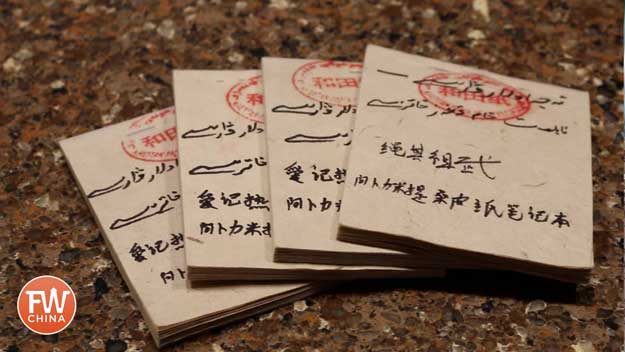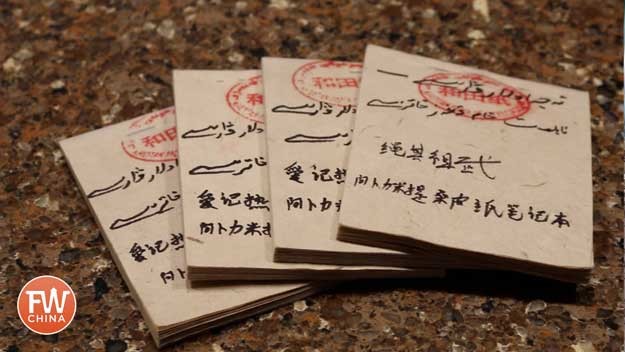 Uyghur Paper Making | Tourist Info
To those interested in viewing this fascinating process of making paper out of mulberry bark, the first thing I suggest is that you pick up a copy of the FarWestChina Xinjiang travel guide.
The small Uyghur village was a good 45-minute drive from the Hotan city center, but it was a worthwhile trip, not just for the paper making but also for the scenic tour of the Hotan countryside.
You'll need to hire a driver to take you out to the village and back, and this is the information that you'll need:
What: Hotan Uyghur Paper-Making Shop
Where: The Puqiakeqi Village in Hotan's Moyu county
Chinese Address: 和田墨玉县普恰克其乡布达村2小队
Who: Ablimet Abdukadir
Contact: 132-3981-9347