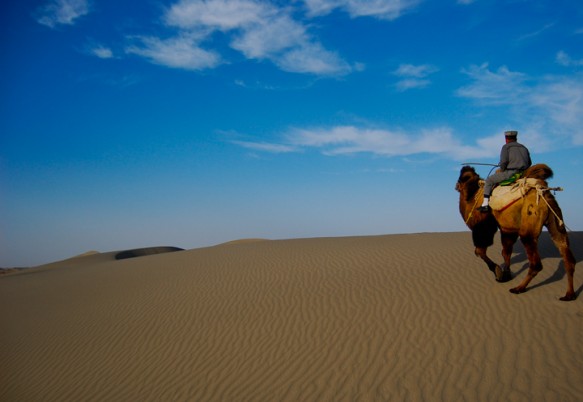 A Desert Trek by Audra Santos
This beautiful photo captures a journey into the Taklamakan Desert from Khotan (Hotan). Camel treks like this one are a common tourist attraction all along the edge of the desert and you can even arrange an overnight journey to some locations.
Take a moment to read this story about riding a camel in Xinjiang.
Have you ever ridden a camel before? It's not quite as smooth as a horse – especially the mount and dismount. I can't even imagine spending a month on one of those animals crossing the desert like some of the early explorers in the 1800 and 1900's!
– – – – – – – – – – – – – – – – – – –
If you are interested in contributing a photo to FarWestChina's Picture of the Week series, please contact me and send in your Xinjiang-related photo. All photos must be originals and will be credited to you and/or your personal website.