On July 23rd, 2010, a Uyghur journalist, activist and blogger named Gheyret Niyaz (a.k.a. Heyrat Niyaz, 海莱特·尼亚孜) was sentenced to 15 years in prison. His crime, according to many reports, was "endangering state security" by conducting an interview with a Hong Kong newspaper shortly after the Urumqi riots of 2009. He played no role in the actual riots.
Mainstream media has focused its stories on the harsh 15-yr sentence handed down by the Chinese court, but they tend to overlook the details surrounding the accusations made against this prominent Uyghur and exactly why he was convicted.
Who is Gheyret Niyaz? And what exactly did he say in that interview to merit 15 years in prison?
Who is Gheyret Niyaz?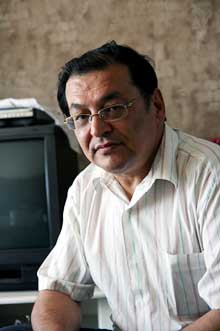 Gheyret Niyaz is a Uyghur journalist who has lived most of his life in the Xinjiang capital of Urumqi, with the exception of a 4-year period of university studies in Beijing (Minzu University).
He had worked previously as a senior reporter for the Xinjiang Economic News and was an editor/administrator for the popular Mandarin-language Uyghur website Uyghurbiz.net (now no longer in existence).
What's most surprising about this particular Uyghur is that Gheyret Niyaz, unlike many of his peers, is known for his generally supportive views of the Chinese government.
He has never been accused of participating in the riots although he was in Urumqi at the time "…on Xinhua Nanlu watching as rioter smashed and looted".
So why in the world would he be sentenced to 15 years in prison?
The Punishable Interview
A couple weeks following the Urumqi riots an interview was published on Yazhou Zhoukan (Asia Weekly) that China authorities believed crossed the line from journalism to criminal activity.
Although people in Xinjiang, including myself, were not able to read this interview at the time due to government-imposed internet restrictions, a translation was soon posted online detailing the discussion between the Hong Kong reporter and Gheyret Niyaz.
In this interview Gheyret explains his predictions prior to July that something was going to happen and how he had tried to warn the authorities:
After the incident in Shaoguan, Guangdong, I felt that something big would happen, that blood would flow…I called a friend of mine in the government and said, "Something is going to happen tomorrow. You should take some measures"…In fact, I was not even the first person to warn the relevant government agencies on July 4. Just after 6 p.m. on July 4 another person had provided a warning.
Just who exactly this other person was that provided a warning is never revealed, but his point is clear: there were serious red flags prior to July 5th. Although these statements certainly don't reflect well on the government, it's hardly worth 15 years in prison.
Later in the interview Gheyret expressed another feeling that has been shared by many people throughout Xinjiang, both Uyghur and Han:
Ethnic relations in Xinjiang really became more tense over the past 20 years or so. After taking office, Party Secretary Wang Lequan adopted a high-handed posture that would not allow for any ethnic sentiment among minority populations…[Wang] overemphasized and exacerbated the anti-separatist issue.
Wang has since been replaced by new Party Secretary Zhang Chunxian, but it certainly had nothing to do with pressure from this interview.
Article 111 of the China Criminal Code
Although details of his sentence are difficult to nail down, it's likely that Gheyret Niyaz was convicted under Article 111 of the China Criminal Code. This section of Chinese law states:
Whoever steals, secretly gathers, purchases, or illegally provides state secrets or intelligence…is to be sentenced from not less than five years to not more than 10 years of fixed-term imprisonment; when circumstances are particularly serious, he is to be sentenced to not less than 10 years of fixed- term imprisonment, or life sentence; and when circumstances are relatively minor, he is to be sentenced to not more than five years of fixed-term imprisonment, criminal detention, control, or deprivation of political rights. (emphasis mine)
In other words, this 15 year sentence signifies that the Chinese judicial system sees this interview as an offense of "particularly serious" nature.
Many organizations have appealed to China on Gheyret's behalf, including the WUC (World Uyghur Congress) – which is a bit ironic considering one of his comments during last year's interview.
When asked "How do local Uyghur intellectuals view [the president of the WUC]?" Gheyret responded:
They're not interested. [She] basically has no ideas.
Why the Harsh Sentence?
If you remember, late last year another Uyghur named Alimjan Yimit was convicted under the same Article 111 for a 15 year sentence.  In 2008 a man in Turpan named Ekberjan Jamal was sentenced to 10 years for passing on audio clips of a a protest to friends outside the country.
Now Gheyret Niyaz can be added to the list of those receiving harsh sentences for seemingly minor crimes.
I speculate that such sentences are meant to discourage all Uyghur from conducting interviews with media, even those as harmless as the one above. If that's the case, it's working. Every journalist I speak to who has returned from a trip to Xinjiang tells stories about Uyghur interviewees who don't show up, refuse to answer questions, or don't even agree to talk at all.
As long as China feels defensive about its position in Xinjiang – and that might be for quite a while – the liberal use of Article 111 will continue to scare all residents within the province.