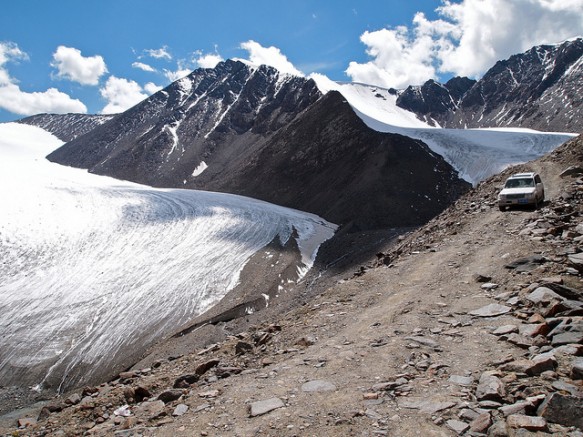 Urumqi's No. 1 Glacier by Remko Tanis
Urumqi's No. 1 Glacier, located about 120km Southwest of the capital, is the largest glacier in Xinjiang.  It averages about 500 meters in width and covers a distance of almost 2 1/2 kilometers. Despite how beautiful and enormous it looks, over the past few decades this and the 70+ glaciers that surround it have been shrinking.
Chinese economic development has benefited Xinjiang in many ways, but its burden on the environment has been heavy.  Coupled with global warming, it has lost 25% of its mass over the past five decades.  The two arms of the glacier that once met at the bottom of the mountain are now separated by a field of exposed rock.
I'm no scientist, but I do know that Xinjiang's water supply is straining to keep pace with increasing demands of population and industrial growth.  Glaciers like this one provide much of the water needed and the fact that they are shrinking is worrisome.  It's a bit of a journey to get there, but it won't be long before Urumqi's No. 1 Glacier is no longer the grand tourist spot it is now promoted as.
Further Reading:
– – – – – – – – – – – – – – – – – – –
If you are interested in contributing a photo to FarWestChina's Picture of the Week series, please contact me and send in your Xinjiang-related photo. All photos must be originals and will be credited to you and/or your personal website.