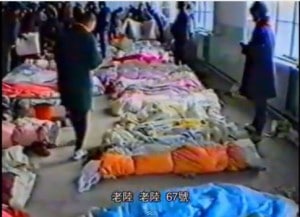 Charred bodies.
Burned shoes without owners.
A locked door ominous claw marks on one side.
All horrible images that most parents would soon rather forget.
Nearly two decades have passed since the worst fire in Xinjiang's history claimed the lives of 325 people, 288 of them school children. Up until December 8, 1994, Karamay was just a quiet oil town in the northern part of the Xinjiang province, but news of this disastrous theater fire put Karamay on the international map.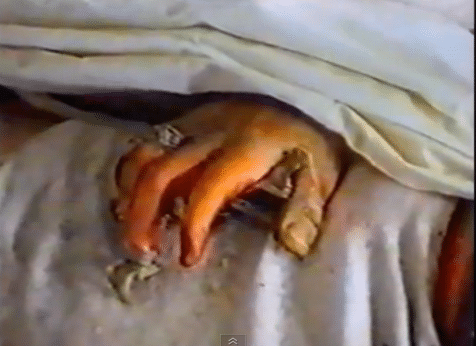 In 2010, a documentary was released about this event aptly titled "Karamay". It was premiered at Hong Kong's 34th International Film Festival, but not surprisingly the Karamay documentary was banned in China.
I have tried often to view this documentary or to get a copy from the production company – all without any luck – so I was thankful when a FarWestChina reader alerted me to the fact that it is now available to view on YouTube. See the promo (with English subtitles) below:
For those who can't view the video, follow this YouTube link.
The Entire "Karamay" Documentary
The remainder of the documentary is only in Mandarin (subtitled) and lasts for an entire 6 hours. Below you'll find links to all 14 segments, each about 25 minutes in length.
If you only have time to watch one, I highly suggest #2 where there is gripping video of an interview with a mother, a walk-through of the theater after the fire, a view of one of the funerals, and a parent demonstration a year later.
More Details about the Karamay Fire
Here is an excerpt from a previous FWC article detailing what happened that day (to read further, see Hard Memories Linger from Xinjiang's Worst Fire Disaster) :
It started as a simple performance at the Karamay Friendship Theater, a special bonus for those primary students who had proven themselves to be the best and the brightest in the city.  This event was so special in fact, that many high-ranking city officials and Party members made an appearance.  What began as a happy celebration ended in disaster, though, when a short-circuit in a light caught the scenery on fire, quickly engulfing the stage with flames.
According to survivors, a woman who had either helped organize the performance or was a government official immediately stood up and told everybody to be quiet, sit still, and let the leaders go first.  Unfortunately, by the time the leaders had finished exiting the fire had spread out beyond control.  For some unknown reason the emergency exit doors were never ordered to be unlocked and worst of all the fire station was never alerted.  The lives of 288 children and 36 adults, mostly school teachers, were lost that day and it is a scar this city still bears in the faces of those survivors who were severely burned by the blaze.