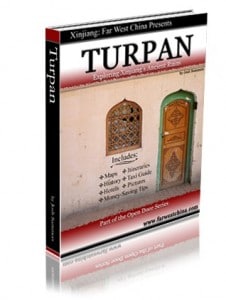 If someone were to ask me my opinion on the best China travel guide for their trip to Xinjiang I would tell them very simply, "There isn't one".
All of the major China travel books provide an ocean of information about Beijing, Shanghai, and Hong Kong while only gently dipping their toes into the enormous province of Xinjiang.  After years of fielding questions from FarWestChina readers who are seeking advice about traveling in the province I finally decided that it was time to do my part to fix this void of information.  So I wrote my own travel guide.
…a must-read for anyone considering a visit to China's northwest… – Asian Ramblings
I'm a perfectionist, however, which means that such an undertaking would not be easy.   From July to October, a period during which I had plenty of free time with no access to the internet, I spent countless hours researching, traveling and writing about the province I love most: Xinjiang.  A guide on the entire province would be far-too difficult I realized, so I shifted my focus to the three most-traveled cities in the region: Turpan, Urumqi, and Kashgar.
I'm finally ready to unveil the first ebook in this series of three entitled Turpan: Exploring Xinjiang's Ancient Ruins, and for those of you who will be traveling to Xinjiang this summer I'm happy to announce that it's going to be the most affordable guide you've ever downloaded.  Why?  Because for the 1st month IT'S FREE.
This 30+ page booklet includes:
A detailed map of Turpan as well as diagrams of the ancient cities you can visit there – all hand-drawn by yours truly!
In-depth historical background on the region that you won't find in any major travel book
Plenty of colorful pictures to help you decide which places you want to visit
Tips on where to go, how to save money, and how to stay safe
A language guide to teach you basic phrases in both Mandarin AND Uyghur
Find a Turpan hotel that caters to foreign tourist
To get your FREE copy all you have to do is sign up to be part of the FarWestChina newsletter.  That's it, I promise.  Not only will you get to stay up-to-date on everything happening in Xinjiang but you'll have one of the best travel resources available for your trip to Turpan.
After you sign up you'll receive an immediate email giving you directions on how to download Turpan: Exploring Xinjiang's Ancient Ruins.  You've really got nothing to lose, so go ahead and sign up!
**Your email will never be used for any other purpose than to update you about this website. You may unsubscribe at any time**