If This Excuse Doesn't Work…What Does?
March 16, 2010
8 Comments
Living without the internet for 6 months is definitely an exercise in patience but sometimes the most difficult part was being patient with people who didn't believe me.  Take my credit card company, for instance.  Not once in my life have I neglected to pay off my month-end balance in-full…until last September.  No access to the internet or phone means no way to pay off a recurring storage shed fee.
When I tried to explain my reasons to the bank during a trip out of the province (where I could get internet and phone), I began to realize that mine might not have been the most bizarre "excuse" they've ever heard.  The conversation went (somewhat) like this:
Me: I've already gone online and paid my balance off, but I'd like to make sure this one late payment isn't reflected poorly on my credit.
Credit Card Company (CCC): Well Mr. Summers, judging from your statement you didn't pay your balance on time.
Me: Yes, I know, but there was no way I could.  I live in Xinjiang, China and because of the riots last July all communication has been shut down.
CCC: Sir, you could call me like you are doing right now and schedule a payment.
Me: Great idea.  Except I can't make international phone calls.
CCC: You're calling me now.
Me: Stunning observation, ma'am.  I actually had to take a 500-mile trip to leave the province in order to make this call.
CCC: Have you considered setting up our automatic payment program?
Me: That might work…if I had internet access.
CCC: Couldn't you have gone to a friend's house or the library to access the internet?
Me: Sure.  Except they don't have internet either.  Nobody in the province can access your website.  It's a tragedy, really.
CCC: Ok, sir. I'm going to send this in to our customer service department and they'll get back to you.
CCC: They can send you an email or call you.
Me: No they can't.  I'm not lying to you – I don't have internet or international phone call capabilities.
Eventually I told the woman to just send me any information to my home address in the U.S.  To their credit (no pun intended) they didn't file me as delinquent, but they did have this to say in the letter they sent me:
Please be advised that when you are unable to send your payment with the payment remittance slip, please keep in mind the payment methods listed below may be utilized: 1) Pay by phone 2) pay online or 3) use our automatic payment program.
Thank you, bank, for your complete understanding.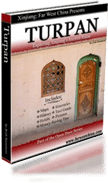 Like what you read?
If so, join over 1,000 others who receive exclusive updates on Xinjiang, plus get a FREE copy of the Turpan Travel Guide! Sign up here: