Traditional Chinese Suction Cup Therapy
I've tried a lot of crazy things in my life, I think. I've eaten things that most people wouldn't dare and tried things that the average person might be scared to do.
I've tasted turtle, horse, dog, pig tongue, duck brain, etc; I love to rock climb, rappel, river raft, and gosh-darnit if I go to an amusement park I ride every roller coaster! Ok, so I'm not saying that I'm a daredevil – anybody who knows me could tell you that any risk I take has been meticulously calculated – however I do believe that I do have an above-average control of my fears.
I almost met my match last Wednesday when I faced my fear of the Chinese massage.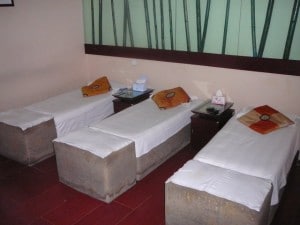 I know what some of you are thinking. "Massage!? I sure could use a massage! Why in the world would you be afraid of a massage?" Just wait. You'll be scared, too.
This is no ordinary massage. No, sirree. This massage dates back almost 2,000 years and is rumored to be able to cure anything from a sore shoulder to the common cold. This particular type of massage therapy is well-know to most people all over China and can be found in decent massage parlors from Beijing to Karamay.
And it sucks. Literally.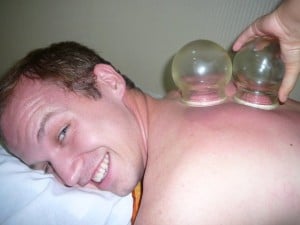 I'll give you a general idea of the process of this therapy, even though its much easier to understand when watching the video below. After properly preparing the back by massaging oil on it for 5 minutes or so, a series of round, glass balls – or "cups" as I will now refer to them – are placed on the back.
A moment before placement a small fire is lit inside the cup and soon removed to heat up the air inside. Once the cup makes contact with the skin on your back the hot air creates a vacuum that sucks your skin far into the glass globe.
This method, known formally as "flash-fire cupping", feels about as good as it sounds to be honest, but better yet it does a smash-up job of leaving a hickey on your back the size of a small pancake. Once the cups are secure you must allow them to suck at your skin for 10 minutes. As you can tell in the photo below, I got 18 of them (there's one on my right shoulder barely visible if you're counting).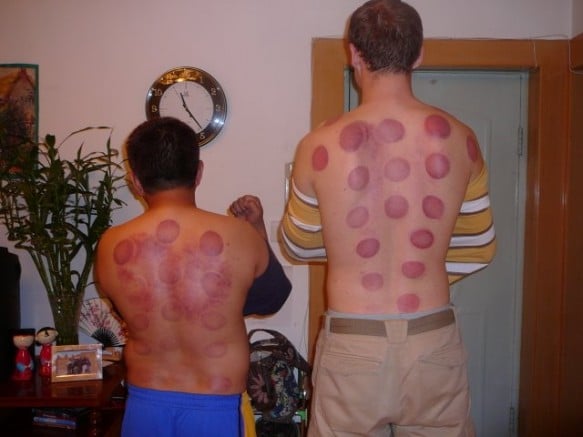 So here's the short story of how and why – questions that I would be asking if I were you right now. The man you see standing next to me in the picture above, Cons, is a friend who has been having some back difficulties. When we talked with a Chinese friend about it, he recommended this therapy which is supposed to (as I mentioned before) ease back pain and cure the common cold. He had back pain, and even though I didn't have a cold to put that crazy notion to the test, I couldn't pass up the opportunity. All three of us agreed to meet on Wednesday and subject ourselves to this "therapy".
I can now tell you that true male bonding only happens when you're half-naked having your back sucked into what feels like a hundred tiny glass balls. You don't get much closer than that.
I was the last person to get the cups, and as I sat there watching the grimaces on the faces of my "cupping" buddies, I can't lie and tell you that I didn't almost back out. You pay for pain with this therapy on the promise that it will make your life better in the days to come – and I don't normally pay for pain! It's too early to tell you how effective this method is physically, but it is already effective in giving my new "conquered fears" list some pizazz:
Fears I have conquered:
1) Eating pig brains
2) Rappelling a high rock face
3) Receiving 18 hickeys by fire-breathing suction cups
Who's a daredevil now?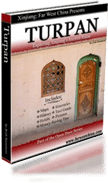 Like what you read?
If so, join over 1,000 others who receive exclusive updates on Xinjiang, plus get a FREE copy of the Turpan Travel Guide! Sign up here: