Is it still possible earn extra money flying as an air courier? Back in the day, being an on-board courier used to be a popular travel hack that would get you free flights. Ever since the attacks on September 11th, though, the industry took a nosedive and looked like it would never recover. Now with Covid, is it still possible to find air courier jobs in 2021?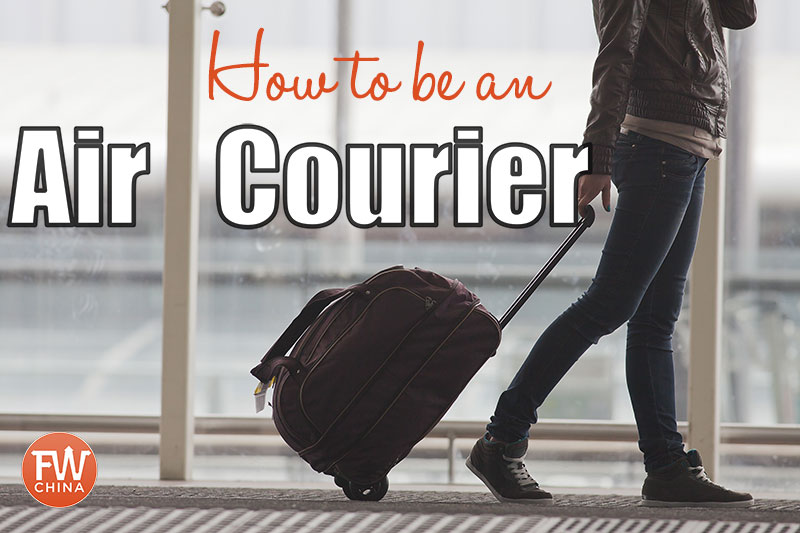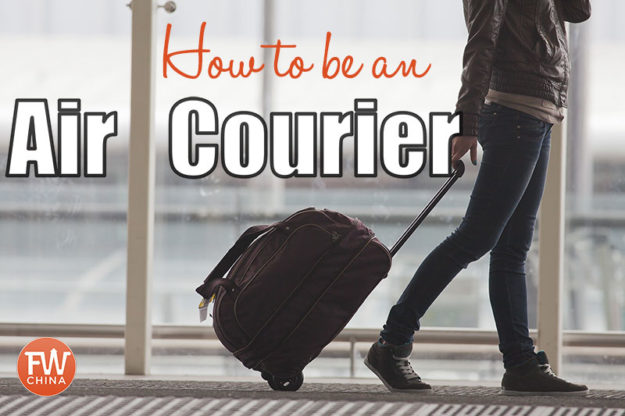 IMPORTANT UPDATE FOR 2021: Currently, due to the global pandemic, there are no air courier opportunities available. The experience outlined in this article is currently unavailable, as you'll see if you click any of the Airmule links. Sorry!
---
Since the process intrigued me, back in 2018 I took a round-trip flight between Los Angeles and Shanghai for the sole purpose of trying out a new air courier service.
Everywhere I'd read online told me that air courier jobs are dead and being an air courier is seldom practical today.
Yet here I'd run into a company that was promising to revive the industry in such a way that regular travelers like me (no, I'm not a professional air courier) could save some money by selling their unused baggage.
Armed with just a backpack and plenty of questions, I set off for Los Angeles, the headquarters for this company known as Airmule.
Note: Some of the links within this article are affiliate links. What this means is that, at no extra cost to you, you will be helping to support FarWestChina if you decide to use some of the services listed. I hope you find this helpful…thanks for your support!
What is an Air Courier?
An air courier is a logistics service where individual passengers escort document or goods either on their person or in their baggage to a destination to be hand-delivered.
The purpose of using an air courier is to ensure quick and safe delivery of items that are either time sensitive or too valuable to send by another means.
While companies regularly use air couriers internally to transport intellectual property they don't want to get lost or stolen, it is also a means by which major logistics companies (FedEx, UPS, etc.) outsource some priority deliveries.
Finding air courier jobs and getting paid to fly with these kinds of deliveries used to be commonplace. Security regulations have certainly changed this a bit, but it's a practice that is starting to see a small surge in popularity.
Being an Air Courier (My Experience)
While below you'll find a written explanation of my experience being an air courier, you might best be served by actually watching me go through the process.
I took a couple cameras along with me on my journey and the result was this video I suggest you watch:
As I showed in the video, Airmule has essentially taken the concept of the "gig economy" or "shared economy" and applied it to the opportunity of wasted checked luggage on international flights.
Honestly, if you're traveling for vacation and you're checking two bags, you're doing something wrong. Even business travelers don't need more than a carry-on most of the time.
If you're traveling for vacation and you're checking two bags, you're doing something wrong.
Being an air courier used to mean connecting with businesses that needed items shipped fast and being available to fly at a moment's notice. Jobs were hard to find and it wasn't practical for most travelers.
This new method changes the game a bit. Here's how it works:
Step 1: Listing Your International Flight
When I decided to give Airmule a try, I signed up for their service and listed my flight. In all, it took about 10 minutes.
Notice here that I haven't committed to anything yet and I'm not scheduling around their needs.
I'm listing my flight and offering my luggage. Maybe I have only one piece of luggage; perhaps I have two. It's my choice.


When I list my flight as an on-board courier, I'm providing Airmule with the following information:
My Flight Details: This could be just one way or round-trip flight details.
My Luggage Availability: I can get more money offering two pieces of luggage, but will that work with my travel needs?
Contact Information: Obviously they'll need to be able to reach me.
During my time in Los Angeles, I met up with a member of the Airmule team named Winston. He explained to me how they work with logistics companies to match shipping needs with travelers who have listed their luggage.
I'm never guaranteed that my luggage space will be purchased, but since I listed my trip a couple weeks before departure, the odds were in my favor.
Step 2: Receiving Your Digital Manifest
The biggest concern that I had being an air courier is that of security – and I suspect most people feel the same way.
Can I trust that what I'm bringing across an international border won't get me in huge, huge trouble?
Each courier company works differently, but this is how Airmule approaches this problem.
About 24 hours prior to my departure from Los Angeles back to Shanghai, I received an email from Airmule saying that my luggage had been purchased. If I wanted to, I could log into my account to see exactly what I would be bringing with me to China.
So I did.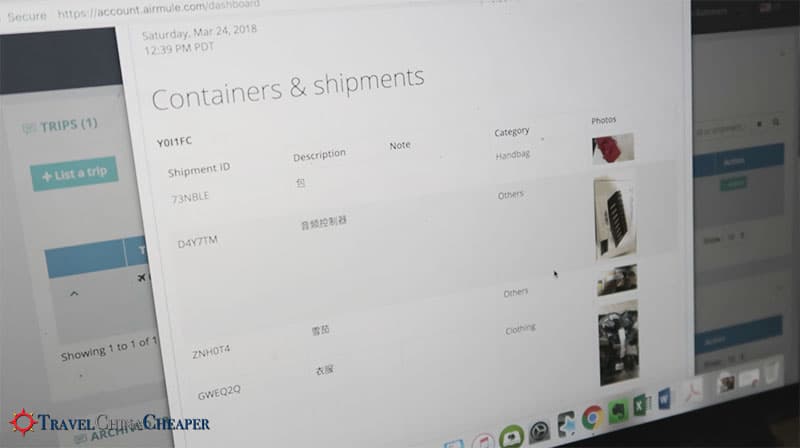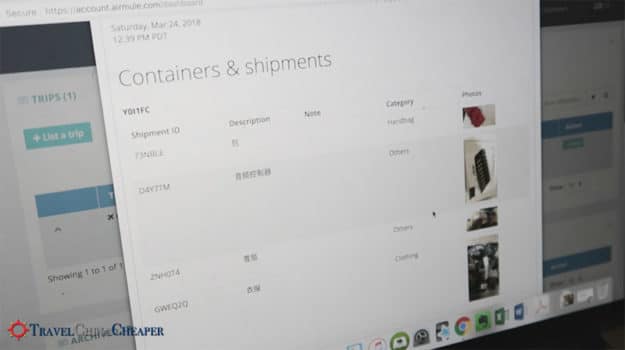 Attached to my trip listing, Airmule had given me a digital manifest, a listing of every item that would be packed in each piece of luggage.
For this particular trip, it looks like I would be taking over a number of designer hand bags, a couple iPhone X's, a porcelain statue and even a gold coin.
Is this for real?
Step 3: Checking in as an Air Courier
I woke up the next morning and drove to the LAX airport. I already had all the contact information for the Airmule concierge that would be dropping off the luggage. All I had to do was arrive at my terminal and let him know I was there.
There are two things that were going to be very important to me in this process of being an air courier:
I wanted to open the luggage and see for myself what I was taking.
I wanted to be clear to the airline what I was doing. No sneaking around.
When Airmule dropped off the luggage at the curb of the LAX airport, I spend about 5-10 minutes looking through the bags and comparing it to the digital manifest I had been given. As a first-time on-board courier, I wanted to make sure I knew what I was taking!
Thankfully, all the items were wrapped in see-through bags.
At this point the luggage was closed and sealed with special tape and I finally signed a formal agreement with Airmule. The agreement stated that I would deliver the bags to an Airmule representative in Shanghai, but should anything happen with customs or lost baggage between now and then, Airmule would take responsibility.
So far, so good.
After standing in line at the airport, I walked to the counter to check the two bags I had been given. Within 2 minutes I had announced that I was acting as an air courier, these weren't my bags and I hadn't packed them. The lady looked at me a bit surprised and then went to speak with her supervisor.
I was ready to prove this concept wrong, yet she returned with a smile on her face and checked in my bags. She never asked for my digital manifest (though I had it ready) and she never asked any further questions.
Step 4: Flying and Delivering the Package
The 14-hour flight was long and boring. That's pretty much all there is to say about that.
Landing in Shanghai, I picked up my bags at the baggage claim and made my way through customs. According to Winston at Airmule, the company is very careful to pack the bags based on customs regulations.
In other words, I didn't have to declare the bags at customs. I just walked through.
An Airmule representative met me on the other side of customs and I handed off the luggage. Within 24 hours I had been sent an email saying that the luggage had been processed and payment would be forth coming.
I had just saved $300 on my $650 round-trip tickets by being an air courier!
How to Find Air Courier Jobs in 2021
I realize that being an on-board courier isn't for everybody. And you're not going to get a full flight paid for by using a service like Airmule.
But is it possible to be an air courier in 2021?
No, unfortunately, it no longer is.
Airmule has been in business for a few years, but due to the pandemic known as COVID-19, they've had to shutter there operations.
As far as I'm aware, because passenger flights are not running on regular schedules and international packages are receiving more and more scrutiny, it is currently impossible to act as an air courier in 2021.
Hopefully all that will change later this year!