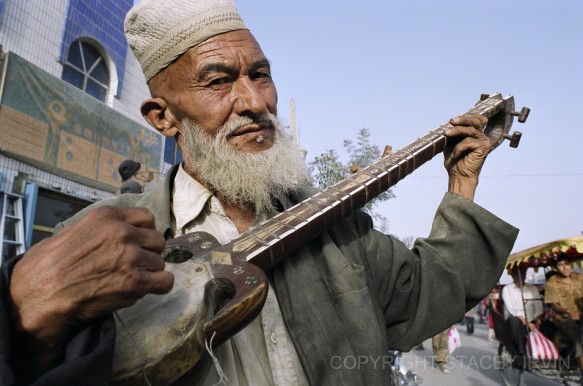 A Uyghur man plays the Rawap by Stacey Irvin
Use the player below to listen to the rawap, the instrument pictured above:
A rawap is a "Uyghur long-necked lute without sympathetic strings"2. It is a symbol of Uyghur music and culture and one of the most common souvenirs that you'll find in all the markets in Xinjiang.
Thanks to Stacey Irvin for this wonderful picture. In her own words:
I came upon this musician after a morning visit to the Sunday Bazaar in Khotan (September 2004). He was playing his rawap with vigor while slowly meandering toward the market. He circled me while playing and allowed me to photograph him.
1Music clip from "The Red Rose: Xinjiang Instrumental Music. Mukam Art Troupe of Xinjiang"
2Excerpt of insert from "The Silk Road: A Musical Caravan" by Smithsonian Folkways Recordings.
– – – – – – – – – – – – – – – – – – –
If you are interested in contributing a photo to FarWestChina's Picture of the Week series, please contact me and send in your Xinjiang-related photo. All photos must be originals and will be credited to you and/or your personal website.