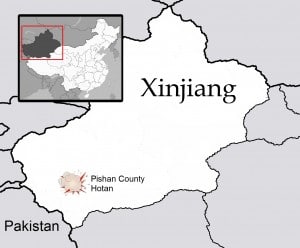 Less than 6 months following a Hotan riot that left 18 people dead in July of 2011, this small, Xinjiang city has made international news yet again with a string of suspicious deaths. In what is becoming a familiar trend in Xinjiang news, conflicting reports and changing stories have made it hard to pin down exactly what occured.
The story began on December 29th with Xinhua breaking a story about 7 kidnappers:
A group of "violent terrorists" kidnapped two people in the remote mountainous areas of Pishan county, Hotan prefecture, at about 11 p.m. Wednesday. Police opened fire as the kidnappers "resisted arrest," a spokesman with the Xinjiang regional government said.
Seven kidnappers were shot dead, and four others were wounded and arrested. One police officer was killed and another wounded in the rescue. Two hostages were freed.
All major routes into the county were sealed off, and within hours Radio Free Asia had published its own reaction to the event which "doubted the official version" as expected. What wasn't expected was the article published the next day by China's Global Times, which admitted that the group was just trying to flee the country to Pakistan, although they refused to shake the idea that they were religious extremist:
A local official told the Global Times on condition of anonymity that the 15 kidnappers tried to cross into Central Asia to receive jihadist training, but lost their way near Pishan, which borders the Kashmir region.
They then seized two local herdsmen who were looking for lost sheep and forced them to lead the way. The herdsmen escaped and contacted local police.
This version of the story was confirmed by a named official for the Xinjiang government, but everyone conveniently failed to mention one minor detail…
…two of the people killed were women and one of the wounded was a 7-year old.
According to RFA:
"Two of the seven people killed by the police in the mountains were women. They are 29-year-old Burabiye Anduqadir and Buzohre Seydehmet. Their bodies are being held by the county Public Security Bureau," Mukula village chief Minever Ehmet told RFA on Thursday.
"The four captives are children aged seven to 17 years of age. One child is an elementary school student in second grade. They are being interrogated by the county."
When asked about the condition of the seven year old child, Ehmet said he was "still alive," implying that he may have been severely injured in the shooting.
It was unclear whether any children were among those killed by police.
It's so confusing that the New York Times dedicated two different articles to cover the story, one about the initial story and the second about the disputes.
The only facts that are truly confirmed are that all of those killed and detained were Uyghur, they were trying to flee into Pakistan, and the area around Pishan county has been temporarily closed off. Beyond this, all other details will be as easy to uncover as a needle in a propaganda haystack.
More on Trouble in Xinjiang: