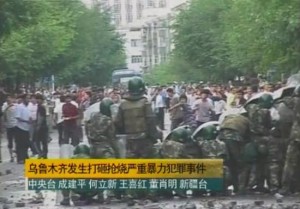 It was two years ago today that the streets of Urumqi, capital of China's Xinjiang province, were filled with protesters, police, riots and burning cars.
It was two years ago today that almost 200 people died and hundreds more were wounded.
It was two years ago today that text messaging in the province was disabled and the internet was cut for a record 10 months.
It was two years ago today that the fight between the Han and Uyghur cut so deep that the scar will likely never disappear.
I remember this day just like it was yesterday. I remember the frantic phone calls from friends, the police marching down the empty streets wearing riot gear, and for the first time not a single car, taxi or bus ferrying people from one place to another. We all just locked ourselves in our homes and waited for time to pass.
The Blame Game
That day still remains clouded in confusion. I was there when it happened and I don't fully understand what transpired, yet somehow the government, human rights groups, and scores of journalist tell me they know exactly what happened. And what's worse, each of them have videos to "prove" their side of the story.
Who am I supposed to believe? The government has a bad reputation when it comes to re-writing history, however the international Uyghur groups have done themselves no favor by insisting that the 150+ Han bodies that lay dead in the streets was a justifiable retaliation for "excessive force" from the police. The crackdown that has happened since July 2009 is worthy of outrage, but the riots themselves? I still hold that both groups were equally at fault.
Urumqi Riots Timeline
If you're not quite sure what happened in Xinjiang during the month of July 2009 or if you need a refresher, here's a look at the events that took place: