Xinjiang authorities aren't taking any risks this month as the one-year anniversary of the Urumqi riots approaches.  Friends in the region describe the atmosphere as tense, but this too shall pass.
The increased tension and security has taken on many forms which can be seen by the various pieces and comments that have been published over the last couple of weeks.  Take, for instance, an article by the Associated Press that describes the most notable difference in Xinjiang's capital of Urumqi:
China has installed about 40,000 high-definition surveillance cameras in the western region of Xinjiang days before the one-year anniversary of the country's worst ethnic violence in decades.

The security cameras with "riot-proof" protective shells will be monitored by police at more than 4,000 public locations, including on city streets and buses and in schools and shopping malls, city government spokesman Ma Xinchun said Friday.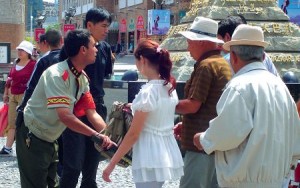 Tourists are still able to visit the region but there are increased numbers of military personnel that will be maintaining the peace.  A recent AP article quoted a Chinese site that gave more details:
A government-run website, xjpeace.cn, said all vacations for Urumqi police officers were canceled from June 20 to July 20. It said the police department had launched an "all-out" campaign for 30 days to crack down on "all kinds of criminal activities and firmly prevent violence."
Melissa Chan, a reporter for Al Jazeera in China, is currently walking around the streets of Urumqi trying to write a story about the one-year anniversary.  Her twitter account documents the struggles that many journalist are having in the capital right now:
Okay so total so far: Stopped by police 7 times this morning alone.

So basically we've spent all morning in Urumqi but haven't been able to speak to a single Uighur.

Uh oh. Now we're in trouble. LOTS of police just stopped us asked us to go to police station.
Some of the security borders on paranoia, though.  On top of all the closed-circuit cameras that have been installed in the capital, taxis have also decided that they need to beef up security.  According to this article by the Global Times:
In September, surveillance cameras were installed in all taxis.

"The camera records everything and covers every single corner in the taxi," said a taxi driver surnamed Du. "And there is a button right under my left foot. Once I step on it, it calls 110 immediately." [Note: 110 is the China equivalent to 911]
In the midst of all this, both Amnesty International and the US State Department thought China would be open to listening to international opinions.  Although I agree with both groups, their timing is obviously political and in no way helps or affects the people of Xinjiang.  While the US is using weak language like "we urge China", Amnesty is directly challenging the authorities:
Amnesty International (AI) says it has newly gathered testimonies from Uighurs who fled China after the unrest.

They allege that demonstrators were attacked by the security forces, shot in the back or denied protection.
Even with my personal experience in Xinjiang during this time I can't make comments on those kind of statements.  From what I saw the police handled things correctly, but I wasn't in all places at all times.  I'm certain that we'll never know all the details of this event and for the foreseeable future we'll have more security precautions every year around July 5th.