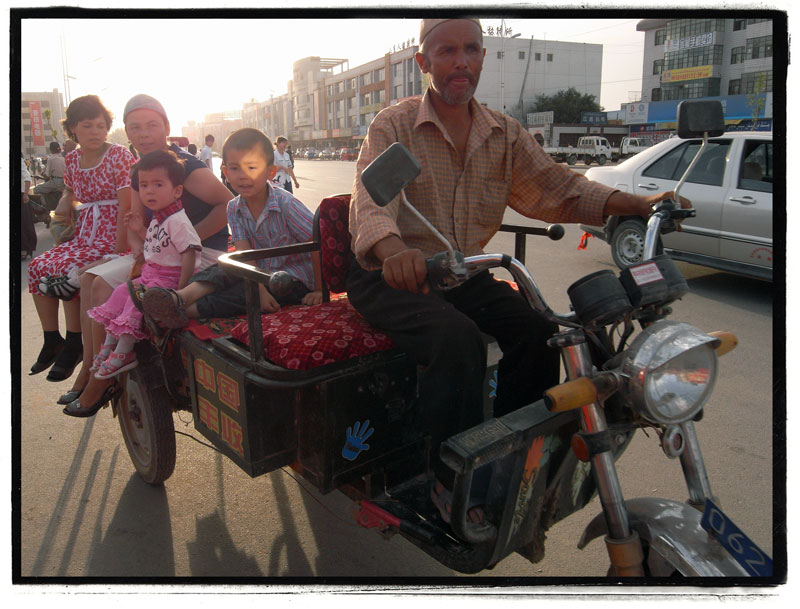 A Three-wheeled Motorcycle Taxi in Kuqa by Wee Ling
Although it is becoming less and less common in Xinjiang, three-wheeled motorcycles are a popular taxi service for Uyghurs.  In certain parts of Urumqi you can still take one but you're more likely to find them in smaller, Uyghur-dominated cities like Kuqa (库车) on the northern edge of the Taklamakan Desert.
Wee Ling, who took this photograph, describes the scene:
It was taken one evening at the entrance of a neighborhood market in front of Kuqa's long distance bus station…There was a sort of drop-off/pick-up point for three-wheeled motorcycle pickups and I was intrigued that this seems to be the favorite, and most likely cheapest, mode of public transport in Kuqa. There were no signages on the vehicles to indicate where they are heading to or if drop-offs are arbitrary. Most definite though, strangers and families are sharing the ride.
These taxis run a set path through the city and usually cost about 1 RMB per rider.  You can flag one down like you would a regular taxi and then let the driver know where you'll be getting off.  It's really a great way to see a city!  Just hop on one, see where it takes you and then find your way back.