In the mountains northwest of the city of Kashgar, part of China's far west province of Xinjiang, is hidden Shipton's Arch, a curious arch so unique that it has been called one of the world's top 20 natural wonders.
The locals call it "Toshuk Tagh", translated to be "Mountain with a Hole", while the Chinese have named it 天门, or "Heavenly Gate". Most English guides you see call it Shipton's Arch after mountaineer Eric Shipton who is credited with its discovery.

Shipton's Arch is the world's tallest known natural arch – so tall that it could fit the Empire State Building or have an airplane fly through it.
If you have the opportunity and enjoy hiking outdoors, a day trip to this extraordinary Silk Road destination is worth your time. Even as you see the pictures below, keep this in mind: No photo does this arch justice. You just have to be there.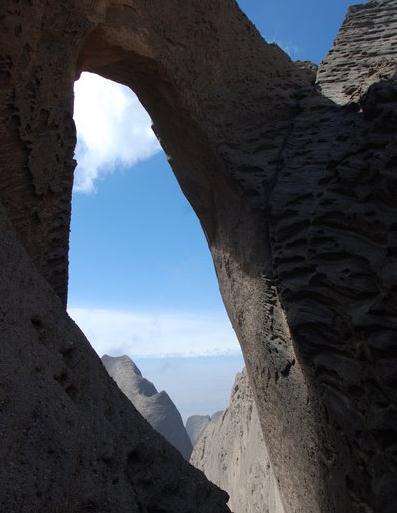 History of Shipton's Arch
In this day and age of GPS mapping and satellite imagery, it's not often that you can say that a place has been re-discovered in the year 2000. But that's exactly what happened here in Xinjiang, China.
Eric Shipton, an English mountaineer, first introduced the arch to the world in his book Mountains of Tartary written while he was stationed in Kashgar as British consul. It was during this period in history that the Great Game was still afoot and this particular post along the old Silk Road was of strategic importance.
He had caught glimpses of the big arch during hikes around the norther Kashgar but multiple approaches from the south proved unsuccessful. It wasn't until locals guided him from the north in 1947 that he finally came face to face with this magnificent natural phenomenon:
"At last, emerging from one of these clefts, we were confronted with a sight that made us gasp with surprise and excitement. The gorge widened into a valley which ended a quarter of a mile away in a grassy slope leading to a U-shaped col. Above and beyond the col stood a curtain of rock, pierced by a graceful arch."
Fast-forward 50 years later. Believe it or not, following Shipton's discovery of the arch, no other foreigner recorded visiting the mountain until 2000 when a National Geographic sponsored expedition went in search.
Far better equipped and more determined than Eric Shipton, this group actually climbed to the top of the arch and took measurements to verify that this was, in fact, the tallest natural arch in the world – 1,500 feet (457.2 meters) high, with a 1,200-foot (366 meters) opening.
Since 2000, the allure of Shipton's Arch was reignited and a path has been beaten by the feet of more adventurous travelers.
How to Visit Shipton's Arch
The journey to Shipton's Arch is a refreshing contrast to many of China's well-developed tourist attractions. Instead of paved roads, paths, and souvenir stands, traveling out to this remote part of Xinjiang requires a 4WD and a good pair of hiking boots.
From Kashgar, the first step is to hire a 4WD car with a driver who knows the way (check out John's Cafe or any of the other tour guide shops). It's only 25 miles from Kasghar to Shipton's Arch, but it will take close to 2 hours of driving, including 1 full hour of off-roading dry river beds, just to make it to the trail head.
Be warned: once you reach the trail head you'll be asked to pay a 20-30RMB "entrance fee" from some locals. It seems ridiculous, but if you don't pay they will remove the ladders which have been installed and make it darn-near impossible to climb. Just pay the fee and seethe about the extortion later.
From the trail head you should be prepared for another 30-45 minutes of hiking and ladder-climbing. It's not a terribly hard climb, but you should be in somewhat-decent shape to make the ascent.
During the entire trek you'll be guided along by monstrous canyon walls colored a beautiful shade of red whose rock has been chiseled away into odd shapes by centuries of wind. The noise of Kashgar fades away into the serene sounds of a mostly-silent canyon.
Odds are that when you reach Shipton's Arch you will be alone with your party to enjoy the gorgeous panorama and gaze down at the deathly 1,000-foot drop. It's unlike anything else you've ever seen yet it's probably one of the most unknown sites in Kashgar.
Travel Tips for Shipton's Arch
Check out the Kashgar City Guide
If you're going to spend the time and money to trek up to one of Xinjiang's hidden gems, you should make the best of it! Here are some tips and suggestions to make the journey awesome:
Entrance Fee: as stated earlier, be prepared for the 20-30RMB per person entrance fee. You can't get around it, so don't try to fight it.
Bring Water and Snacks: you'll be glad you did, because there's no other place to stop and buy this during your hike.
Visit During Sunrise or Sunset: many tour companies offer this option to either arrive super early or stay late to see the sunrise/sunset. It's gorgeous! The only problem is hiking in the dark, so bring light.
Camping: there's nothing to stop you from camping out here and in fact there are a couple tour companies that offer camping trips to Shipton's Arch.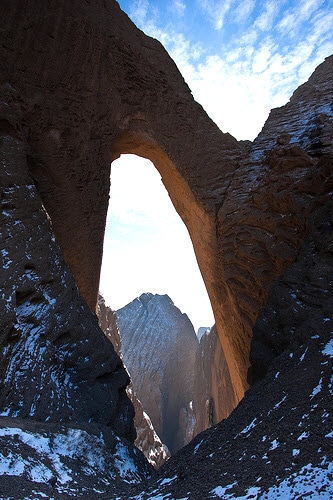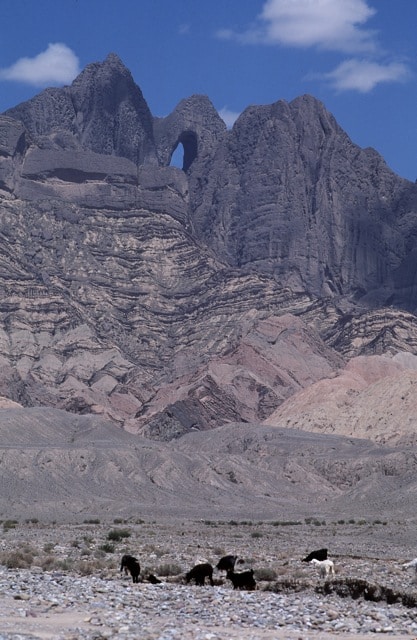 Further Info on Shipton's Arch