For those who have kept up with the China blogging scene over the past few years, the name Mark Vranicar should be familiar to you. He's the author of the cleverly-named Mark's China Blog that has been in existence since 2008.
Since returning home to the United State last year, Mark decided to compile his best photographs from all the travel he had done in China – travel that included a trip to Xinjiang. The result was this 70-page book entitled Expressing the Orient: A Photo Exploration of China.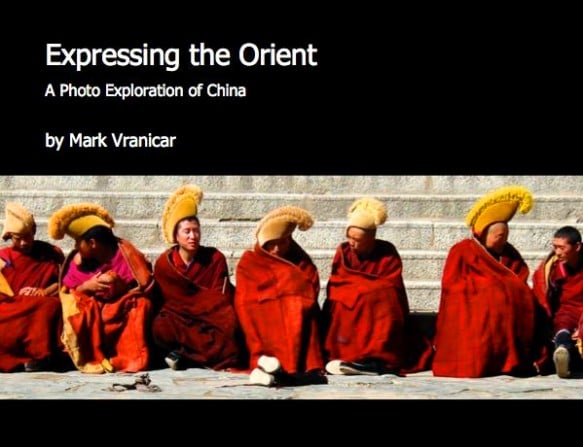 I've had an opportunity to look through this book and I have to say that I'm impressed not only by the high quality photography, but also by the way the book was laid out. Instead of just being a photo album, the book tells a story about the history of China that is hard to do with words. Take, for instance, the page comparing Shanghai's skyline to the ruins of Jiaohe in Turpan.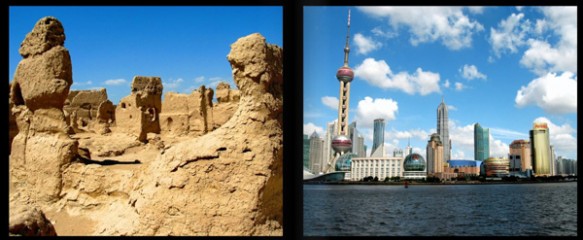 "The biggest theme I try to explore in Expressing the Orient is the unbelievable contrast that one encounters being in China today. There are so many contradicting descriptions of the country – ancient/developing, communist/capitalist, poor/rich – that are all actually quite accurate in their own ways" says Mark.
"I follow China news very closely and have a deep connection to the country. Yet I'm often bewildered about what to make of the place. If just one person who reads my book can understand that sentiment, then I'll be happy."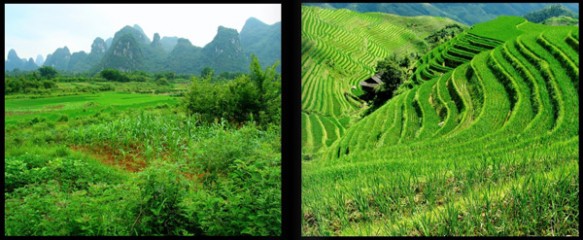 A good portion of this book focuses on Mark's trip to Xinjiang with his brother. During a planned trip to Tibet with his brother in 2007, certain events in the region caused a government clampdown on travel.
"Taking into account the increased costs and needing to have a guide to go anywhere outside of Lhasa, we decided to go to Xinjiang instead. We didn't have to hire any guides in Xinjiang and, since I knew some Chinese, we were able to be much more independent. We felt that Xinjiang totally took care of the "crazy adventurous" part of the trip that we had originally planned on going to Tibet satisfying."
"My brother and I were floored by what we saw in Xinjiang. I'm really glad everything worked out the way it did. I'm not sure I would've made it to Xinjiang if the circumstances had been different."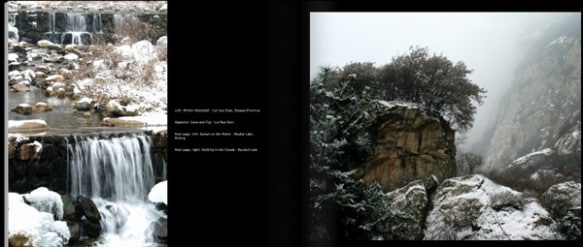 Mark's visit to Xinjiang with his brother brought him to many different parts of the province. "We visited Urumqi, Heavenly Lake, Turpan and the sites in its surrounding area, Kashgar, and Karakul Lake during our time in Xinjiang."
"My favorite place has to be Karakul Lake. Being at that lake surrounded by the imposing 25,000+ foot Pamir mountains is something I don't know that I'll ever match again in my life."
"Reflecting on the other places we went, I'm really glad that I was able to get to see the old district of Kashgar before it was torn down. If I understand correctly, that section of town has been almost completely razed now. Kashgar's Sunday market didn't disappoint me either. Turpan is a fantastic place. Visiting the desert sites during the day and then eating at the night markets later on is a classic Xinjiang experience. And then visiting Heavenly Lake is just surreal. On the trip to Heavenly Lake, you leave dusty Urumqi, travel for a couple hours through the desert by bus, and somehow end up at a scene that looks like a postcard for the Canadian Rockies. A very unique place to visit."
Advice for Photographers
Mark shared with me some simple advice for any photographer who wishes to travel China, and specifically Xinjiang, with their camera in tow:
"Try picking up as much Chinese as possible before you head to the Middle Kingdom. You don't have to know any Chinese to have good travel experiences and nice photos. But any Chinese that you learn will amplify your experiences by an exponential factor. Start with survival phrases and words – numbers, food, a few verbs, etc. – and then just add on from there."
"As for traveling to Xinjiang, my best advice is to read as much farwestchina.com as you can. I'm not just saying this to be nice. I've referred two friends to this site who came to me asking for Xinjiang advice in the past year and both have remarked that it was an invaluable tool for their Xinjiang adventures."
—————————————
Grab a copy of the book Expressing the Orient at blurb.com.