For most people who travel to Xinjiang or pretty much anywhere around China, there are two concerns that directly affect how they plan their entire journey: time and money. Thankfully, China budget travel is possible and these are a few creative ways to do it.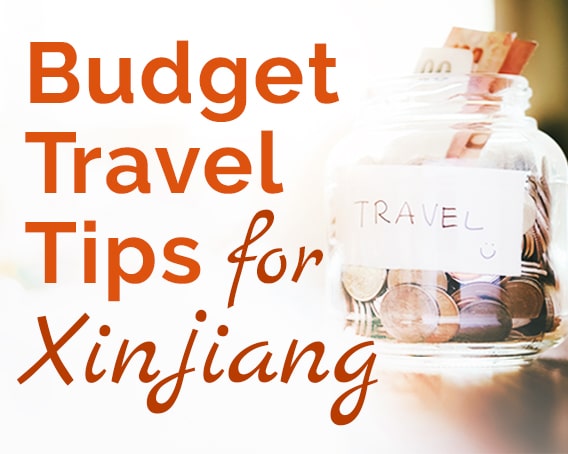 While the pictures and stories I'm going to share here come from my experience specifically in China's far western Xinjiang region, the tips I'm sharing here can generally apply to all China travel.
Flight tickets will always be a major expense (although there are ways to save money on China flights) and high entrance fees to major tourist attractions can't really be avoided.
But there are certain ways in which budget travelers can enjoy China without having to spend a whole lot of money.
Here are a few "tricks of the trade" that I'm happy to share with you based on my decade of traveling around China.
Travel Tip #1: Travel China at Night
There is nothing I hate worse than wasting daylight hours sitting in a bus or train – yet I have done it more often than I care to admit!
If you're like me, you've probably been torn between the higher cost of airfare vs. the time lost in transit.
The reason this is so important in places like Xinjiang is because this region is so much larger than you realize! Larger than Texas and California combined. A trip between two cities that look close on the map could take you 8 hours easily.
How will this save you money traveling by night? Simple. You save the cost of a hotel.
Travel Tip #2: Travel by China Train
Airplanes and private taxis are a luxury and not an option for real budget travelers. The only other options are buses and trains.
Buses aren't a bad choice – especially outside the major Chinese cities – but if you can, I recommend the train (both the regular and new high-speed trains).
Why the train?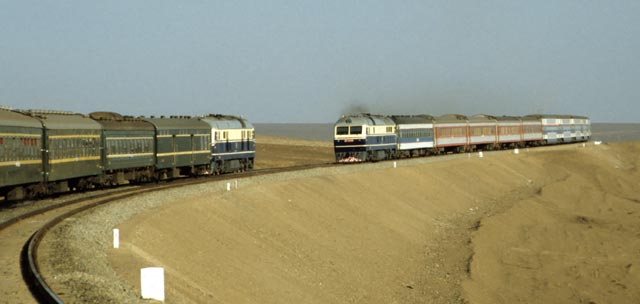 First of all, it's much more reliable. I can't tell you how many buses I've traveled on that have been stuck in traffic, broken down or been indefinitely stopped by police at a checkpoint.
This doesn't happen on a train.
Second, if you're taking my advice on point #1, it's much more comfortable sleeping on a train than on a bus – even if it's a sleeper bus. This is particularly true for those of us who are tall.
For help on train travel in Xinjiang, see Traveling by Train from Urumqi Station
Travel Tip #3: Team Up with Other Travelers
One of the easiest and most fun ways to save money while traveling in Xinjiang – and pretty much any part of China – is to find a group of people who are interested to do/see the same things you are and then go together.
You'll see the largest savings by sharing services and splitting the cost.
Take, for instance, a trip along the Karakoram highway. The best mode of transportation is – in my opinion – a rented taxi which costs about 500-800 RMB regardless the number of passengers.
Fill the car with three other people and you just cut your costs by 75%!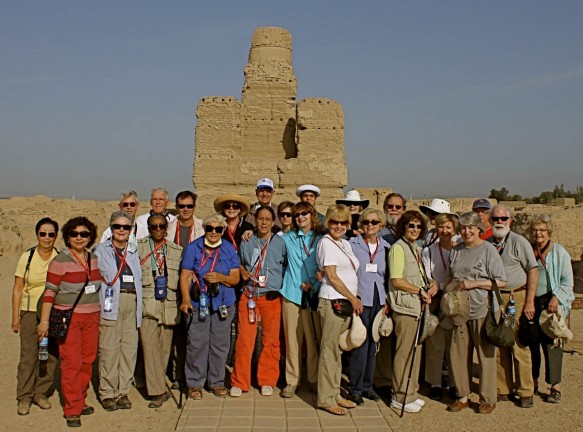 Perhaps your group doesn't need to be THIS big!
Travel Tip #4: Local Flavor
It seems like a no-brainer to remind people that "When in Rome, do as the Romans do", but you'd be surprised at how many people don't do this.
They'll buy some kebabs or Uyghur bread, but when it comes meal time you'll find them at a restaurant with a picture menu (usually more expensive) or worse…at KFC (gasp!).
I find that the #1 reason people don't eat locally is that they don't know what to order. I completely understand. That's why I've compiled a list of great Xinjiang foods – try every one on the list.
FINALLY (and most importantly), I strongly suggest you try what I like to call "hole-in-the-wall" restaurants. They're usually on a side street and don't have a big sign.
The reason I say this is because most people interpret "local" to be "street food", and while I do love food bought from a street vendor, I also know that 75% of the time I will walk away…actually, race away…to the nearest bathroom 5 minutes later.
Get some kebabs and bread from a street vendor, but get a reasonably-priced meal in a restaurant.
Travel Tip #5: Atypical Accommodation
If you're traveling outside the major cities of China, it's a given that you like adventures. You think 5-star hotels are for sissies and air conditioning is for the physically weak.
That's perfect.
The best thing you can do while traveling in Xinjiang is to take advantage of cheaper lodging that some might consider "roughing it". What am I talking about?
Yurts: Whether you're at Salimu Lake, Karakul Lake or a host of other beautiful Xinjiang lakes near the Kazakhstan or Tajikistan border, you have to try a yurt. They usually only cost about 50RMB per person and typically come with a meal or two. Read more about staying in a yurt here.
Uyghur Homestay: Why stay in a hotel when you can enjoy a night in the hospitable home of a local Uyghur? These are often cheaper than a hotel and set up through a good travel agency. *Read more about How to do a Uyghur homestay* (note: these are harder to do nowadays due to political sensitivities).
Tent Camping: You can purchase camping equipment in Urumqi or you can just bring your own. Either way you're in for a treat when you hike away from everything else and enjoy the natural beauty that Xinjiang has to offer.
Final Thoughts: China Budget Travel
Whether it's when you travel (at night/day), how you travel (bus vs train) or where you stay at night (hotel/hostel/other)…
…it's quite possible to save a lot of money doing China budget travel in places like Xinjiang.
Even little bits of money add up over time and give you the freedom to use your money in other ways, such as buying a good souvenir or treating yourself to a great meal.
Are there any other travel tips you would add to this list?