If you spend long periods of time away from "home", whether that's in an RV, on road trips or living abroad, you know the frustrations of receiving physical mail. Perhaps you've heard of a virtual mailing address but you're not sure exactly how it works. Well…you've come to the right place.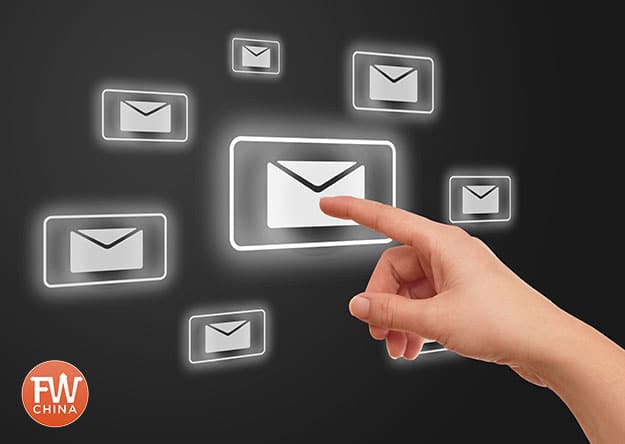 Over the past 10+ years that I've been living outside my passport country (USA), most of the time my physical "home address" has been my parents' house.
You've probably done the same, right?
It could be your parents, a close friend or somebody else you trust. Whoever it is, they've been responsible for your mail while you've been gone.
But you've outgrown that system. You need your own address.
That's where a virtual address comes in. Here's what we're going to cover:
I hope you'll find this useful as you do your own research for a good virtual mailbox option!
Whether it's Traveling Mailbox (USA) or UK Post Box (UK), there are a number of great ways you can start using a virtual mailing address today.
Note: Some of the links in this article are affiliate links, which means that at no extra charge to you, I may be compensated if you choose to use one of the services listed. I only recommend what I personally use, and I appreciate your support!
What is a Virtual Mailing Address?
A virtual mailing address is a service that allows you to remotely manage your physical mail by digitizing (scanning) and forwarding the mail.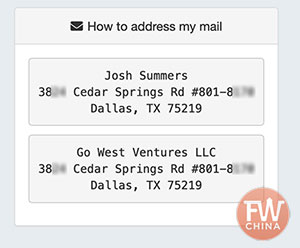 In this way, you have a dedicated physical address, similar to a PO box, except instead of needing to pick up the mail in person, they will scan the mail and upload it securely to your digital mailbox.
You then have the ability to manage what happens to that mail, including the option to:
Delete the mail;
Scan the contents of the mail;
Forward the mail to your current address;
For a better understanding of what this looks like in real life, take a few minutes to watch this video explaining what is a virtual address.
As you can see, a virtual address has been an incredibly important service for me as an expat who lives overseas.
Now I have control over my mail instead of entrusting my friends and family to do it.
How Does a Virtual Address Work?
A virtual address works very much like your email, except you're dealing with physical mail.
Let's walk step-by-step through how a piece of mail would be received. Let's say you're living in Asia but you have a virtual address in the US through Traveling Mailbox.
Somebody sends you a letter to your address: You gave them this address and it was sent with your name on it. It looks like a regular address (not a PO box) and is a physical location where somebody physically receives your mail on your behalf.
Your mail is received and scanned: All new incoming mail has the front scanned and sent to you. You get a notification either on your phone or via email that you have a new piece of mail.
You decide what happens to that mail: You log into your digital mailbox and look at this front scan. If it's spam, you can tell them to delete and shred the mail. If it's mail you want to read, you can ask them to open and scan the inside contents. If it's mail you want to have in your possession, you can have the piece forwarded to any address you like.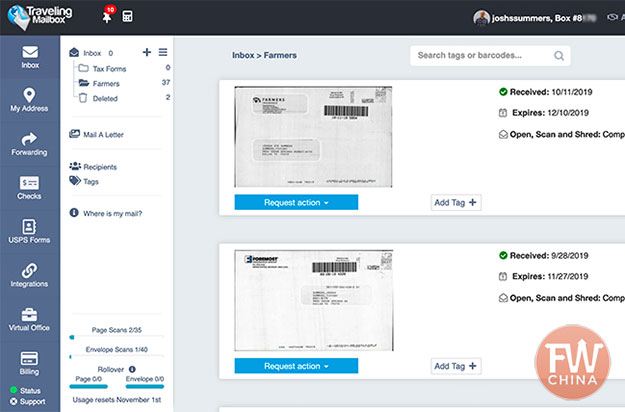 It's really that simple.
All virtual mailbox services work in this same way, although they each have different features and benefits.
Features to Consider | Virtual Mailbox Service
Before you choose which virtual mailing address to use (and choose wisely, because it's hard to change later!), there are various features to consider.
For example, do you want to pay per scan? Or pay a monthly subscription? One isn't better than the other, it just depends on how much mail you anticipate receiving.
Here are a few other virtual mailbox features to consider:
Security: They're dealing with your mail, after all! How do they maintain security in their warehouse and make sure that your digital mailbox is encrypted?
Check Deposit: Do you receive checks in the mail? Sometimes it's easy to just deposit by taking a picture of the check they scan (I've done it before and it works!), but other services offer a check deposit feature. They'll deposit the check on your behalf…for a fee.
Mobile App: Not every virtual mailbox service offers a mobile app version of your digital mailbox. In my opinion, this is crazy. I end up managing my virtual mailing address more on my phone than I ever do on my desktop computer!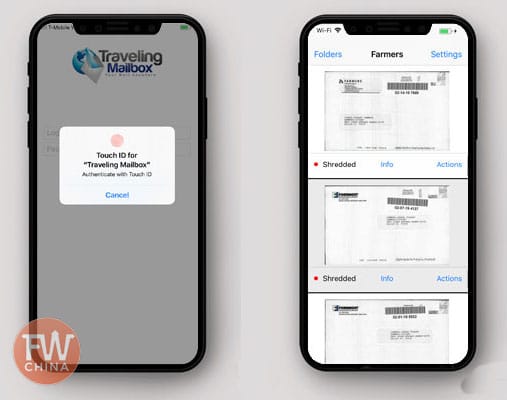 Fax Number: Some virtual mailbox services also give you access to a fax number that you can use to receive faxes. And yes, I know…who is still using faxes? Believe it or not, there are still some who need to receive a fax, and sometimes this is the best way to go instead of trying to set one up for yourself.
Sending Mail: If you live abroad, you know how difficult it can be sometimes to send a piece of mail back home. Some companies offer a service to send mail on your behalf to save money on international rates. Just upload the letter you want sent and tell them where to send it!
The service you choose for your virtual mailing address depends on where you want your address to be located and what kind of features appeal to you.
Recommended Virtual Mailbox Services
I spent a lot of time researching the best virtual mailbox services and I found that there are quite a few to choose from.
Feel free to see what else is available online, but I've boiled it down to my recommended virtual mailbox services for the US and the UK.
Traveling Mailbox | Best US Addresses
Traveling Mailbox has been my go-to virtual mailbox for many years now.
In addition to the many options for different cities across the USA, they also have the best mobile app I've seen to check your digital mail on the go.
Get special discounts using this link:
---
UK Post Box | Best UK Addresses
UK Post Box is the UK's premier virtual address service. They offer both pay-as-you-go plans as well as a subscription service.
It's free to sign up and get an address, and you can choose later which kind of plan you would like to use.
It's a great service I recommend for those that need a UK address!
How to Switch to a New Virtual Mailing Address
Switching to a new virtual mailing address takes a little bit of time, but thankfully it's not a super-painful process.
The hardest part – at least in my experience as a US citizen – was notarizing the proper form that would allow the US Postal Service to deliver mail to this new address.
Doing so requires USPS Form 1583 that allows for mail deliver through an agent.
It's easy to get this notarized if you're in the US, but if you're overseas you have two primary options:
Get a notarization at a nearby embassy or consulate;
Do an online notarization;
Not all states allow for online notarization, so you'll need to check the laws that apply to you.
Once the form is complete, the next step is to distribute your new address. It usually takes a while to start receiving mail, but once you do, it works like a charm!
Enjoy and let me know how it goes for you!