Local Name:  "Sangza"
Chinese Name: 馓子 (sǎn zi)
Alternate Names: Fried Dough Twists, Sanzi
Description:  A fried noodle snack usually served as a twisted pyramid.
A Local Uyghur Snack
If you ever have the chance to join a Uyghur celebration or be invited to a Uyghur home, chances are you're going to run into a beautiful pyramid of fried, twisted noodles.  Don't be ashamed…go snap off a piece!  It's not like a wedding cake where you're only supposed to admire it.  It's there to be eaten and Uyghur hosts are happy to see you enjoy yourself.
Like most anything that is deep-fried it has a crunchy taste with a light flavor.  Throughout Xinjiang you can find this for sale in Uyghur supermarkets or the local bakery.
Error, group does not exist! Check your syntax! (ID: 4)
What is Sanzi, Exactly?
Sanzi is a snack made of wheat-flour dough and pulled into thin noodles.  These noodles are then deep-fried and arranged in a circular pattern and stacked to form a pyramid.  It's a simple food, really, and very quick to make for the experienced cook.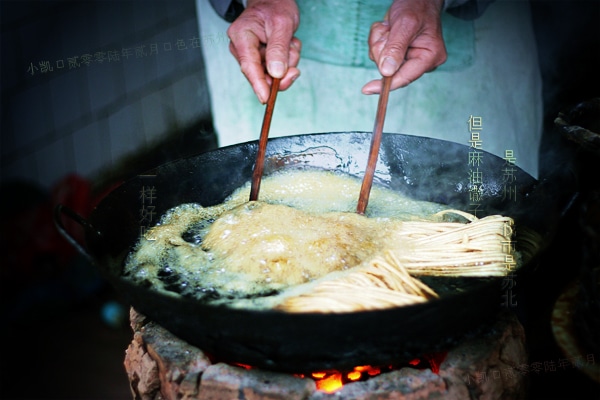 Sanzi isn't strictly a Uyghur food.  As a matter of fact you'll probably see this snack all over China, wherever the Hui minority live (Hui are loosely referred to as the "Chinese Muslims").  According to the Chinese Wikipedia you can eat this snack in Shanxi, Shandong, Jiangsu, Henan, Hunan, and Sichuan provinces.  Oddly, they never mention Xinjiang in this list and I guarantee it isn't hard to find it here.
You probably won't be blown away by the taste of this snack but I can tell you from experience that it is incredible to see a pile of these noodles that is 3-4 feet high.