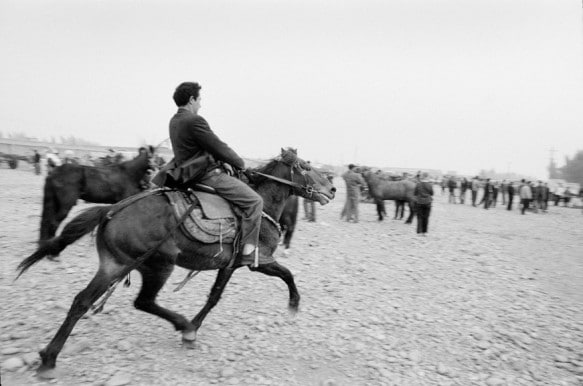 A beautiful B&W photo of a horse being tested at the Sunday livestock market in Kashgar, Xinjiang. Here you'll find horses, donkeys, sheep, goats and many, many more animals.
About the photographer:
Jonathan Browning is a British editorial photographer based in Shanghai, China. In 2000 he began formal studies of photography, obtaining his degree in Photojournalism in 2005. The following year saw him dressed up as a parrot photographing tourists on cruise ships. It wasn't long before he jumped ship and returned to the UK where he spent a year exploring home and Eastern Europe with his camera. In 2007 Jonathan moved to the middle kingdom – China. His three years there have seen him ride the grasslands of Inner Mongolia, be chased by owners of illegal mines and be briefed on how to 'correctly' shoot the former president of China. Jonathan's works have been published in international newspapers, magazines, online and in exhibition. Editorial clients include Der Spiegel, LA Times, The Independent, The Financial Times, The Australian, China Daily and many more. Jon looks forward to where his photography will take him next.
This selected image, among others with be exhibited in March 2011 in a show entitle 'Intimate China' at the AM gallery in Brighton, UK – his hometown.
– – – – – – – – – – – – – – – – – – –
If you are interested in contributing a photo to FarWestChina's Picture of the Week series, please contact me and send in your Xinjiang-related photo. All photos must be originals and will be credited to you and/or your personal website.