The internet blackout in Xinjiang is being restored…or so worldwide media keeps telling me. Granted, I can now send a maximum of 20 text messages per day and the total number of websites released from internet purgatory has doubled to four, but I'm less than convinced. Everybody is intent on calling this an "internet restoration" but I believe it would be more accurate to refer to it as the "internet renovation".
Let me show you a few examples. On December 28th access was opened for Xinhua and the People's Daily. These sites, for the most part, have been genuinely opened save for email abilities and a couple links which return a "Connection Interrupted" message (namely, their English sites).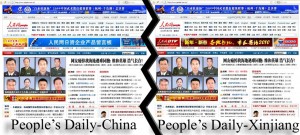 That is what I call "restoration" – what I can see here in Xinjiang is what you can see from wherever you are reading this. Unfortunately, that isn't the case for all the websites that have been restored. Enter Sina and Sohu, two major web portals here in China opened on January 10th. Check out the differences in the web experience inside and outside of Xinjiang: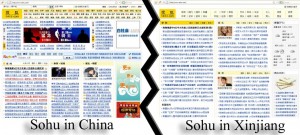 ———————-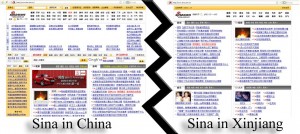 It's a completely different website hosting the exact same material. I notice a couple things right off the bat:
There are no ads
There is no place to "sign in"
There is no Search capability
The option for different languages is absent in Xinjiang
In a way I'm thankful for the simplicity, a stark contrast to the somewhat wild Chinese web design I am used to. The absence of ads feels odd, albeit in a nice sort of way. After looking over these changes multiple times, though, I am left with two very puzzling questions:
Why is this renovation necessary?
Why is all media, including western media, calling this a "restoration"?
Please feel free to leave a comment answering these questions or, if that doesn't work, just shoot me an email. I'm interested to know what you think.