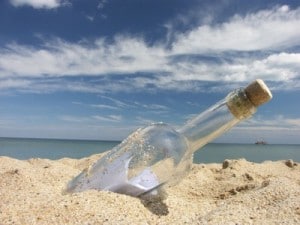 Greetings world. If you're reading this note, then my message in a bottle has somehow made it from this secluded island I live on to the shores of your country. Xinjiang is still under complete blackout and there is no end in sight. As a result, my knowledge of world events has vanished and my sanity has suffered primarily due to the fact that we are the only westerners in our city and I can't contact my friends at home.
Most horrifying is the fact that I am now comfortable in this situation. The first week I went crazy trying to find ways to circumvent "Big Brother" and the second week was spent sulking over my failures. By week three life began to feel "normal" again and now, after three months, I don't even realize how disconnected I am. It's scary to think about.
Life here in Xinjiang has resumed its normal pace but now a new element has been added just for fun: the life-threatening rumor. It seems like every week we have to determine how to handle each new rumor, including both those which are verifiable (needles, H1N1, etc.) and those which are not ("something's going to happen tomorrow, I hear" or "nobody is allowed to leave the city for the next week"). Nobody knows what to believe, which means that most people are forced to accept everything they hear as fact and are becoming quite paranoid.
Contrary to local conventional wisdom, I have refused to become too fearful, taking a few motorcycle trips around the province and not wearing a face mask to protect myself from the crazy flu. I also left the province during this October holiday, another risk I was advised against ("You'll be quarantined when you get back for one full week!"), which is how I am typing this message right now. I'm in a hotel room not even 50km from the Xinjiang border, soaking in the internet like it's a miracle from heaven.
I'll be scheduling a few articles to be posted over the next few weeks but don't be led to believe we have the internet back. I just want to keep this website active even while I'm gone and answer a few questions that I've been getting in my email inbox. Please feel free to write me even if I won't be able to immediately answer. Thanks to everybody who has shown their concern and encouragement to my wife and I during this frustrating time. Take care!