I'm proud to announce that the time has finally come!
After almost a decade of traveling and writing about the Xinjiang region, today I am publishing Xinjiang | A Travelers' Guide to Far West China.
Not only is this 2015 edition the most up-to-date guide to Xinjiang, it's also downloadable from anywhere in the world on Amazon, Nook and Kobo. Find it on your favorite book retailer using the link below or you can continue to read about what makes this travel book different than any others that are on the market today.
–>Find the Book at your Favorite Reseller<–
Why this Xinjiang Travel Book?
Here are just a few of the reasons I'm incredibly proud of this guide:
Custom color maps: I hired a designer who did a fantastic job developing the best Xinjiang maps available anywhere. Even people who live here will find these useful.
All of Xinjiang, not just a few cities: instead of focusing on just a couple cities, I go into detail about every corner of Xinjiang that might be of interest to a traveler.
Travel Discounts: I've negotiated with a number of companies including travel agencies, hotels, visa services, VPNs and others to offer exclusive discounts from 10%-30%.
Mandarin and Pinyin: Every location, city and street is written out both in Mandarin characters and pinyin, making it easy for a traveler to show a taxi driver or try to pronounce themselves.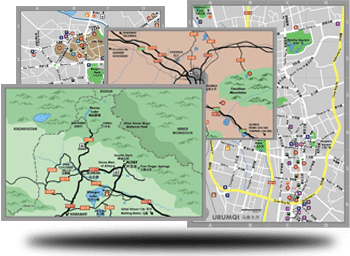 In my opinion, the maps alone are worth the price of the book. There are city maps for Urumqi, Turpan and Kashgar as well as area maps for Urumqi, Turpan, Kashgar and Altay.
After you register the book, you'll even have an opportunity to download the full-resolution maps to have on your phone, tablet or other device while traveling around.
I'm also very excited about the fact that I was able to negotiate some really good discounts with local travel companies, discounts that most anybody could actually use. In most cases, the $9.99 you spend on this book will be paid back 2x-3x's over when you take advantage of the exclusive discounts.
I had originally planned to sell this book for $19.99. It wasn't until later that I learned how Amazon caps Kindle book prices at $9.99. It is possible to price at $19.99, but my royalties drop in half, meaning that you would have had to pay more, I would have received the same royalties and the only party that would have benefited is Amazon. I like Amazon, but not that much.
So now you're getting what I think is a $19.99 value for $9.99.
–>Find the Book at your Favorite Reseller<–
Bonus Tourist Intro to Uyghur Podcast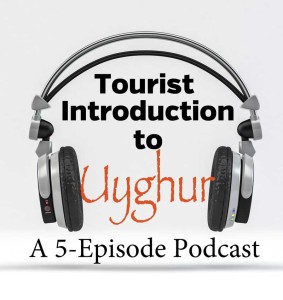 Get insight into the Uyghur culture and learn some basic Uyghur phrases that will endear you to the local population and help you get around with ease! This five-episode Tourist Intro to Uyghur podcast includes:
How to Do Greetings in Uyghur
How to Make Small Talk in Uyghur
How to Take a Taxi in Uyghur
How to Count and Bargain in Uyghur
How to Order Food in Uyghur
Click here to purchase:

Purchase the Tourist Intro to Uyghur
If the content I've provided for free on FarWestChina and responses to your emails have benefited you at all this past decade, there's one HUGE way you can help me: leave a review of the book! I want it to be an honest review, of course, but any review makes a huge difference.
If you're planning a visit to the Xinjiang region, I wish you safe travels and I hope that this guides provides all the information that you need!