A new article on the China wires is being touted as "breaking news" by the AFP, sparking a flurry of excitement exemplified best by the hundreds of tweets that go something like this:
The problem is that the AFP failed to properly research this article. The "new" websites the AFP claims to have been restored are actually the same 32 sitse which have been available since February 5th (read: Still Counting? 27 More Websites Opened in Xinjiang).
Also, email has been available within the province since February 11th, albeit without the ability to send or receive attachments.
Only two newsworthy events have occurred in the past 24 hours:
The limit on text messaging (one could only send or receive 20 messages per day) has been lifted
Emails can now be sent and received with attachments
But how exactly does one send an email in Xinjiang?
How to Send an Email in Xinjiang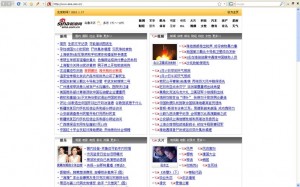 Any email that is properly sent from within Xinjiang will come from Sina.com. In the future, this may be expanded to include other hosts but it is almost guaranteed that all of them will be based in China. In other words, if you have Gmail, Yahoo, Hotmail, or one of countless others…you're doomed.
New users must create an account on Sina.com (an action which can only be performed in the Chinese language) at which point they can then send and receive emails.
Where's my Address Book?
Here's the problem: Imagine that one day your email host suddenly disappeared never to return. You can get a new email address, no problem, but what about your addresses? How many of your friends and family email addresses can you recite from memory?
Right now everyone in Xinjiang who wants to send emails must do so from memory. Everything that was once stored online – names, email addresses, QQ numbers – it's all inaccessible.
Yes, email is possible in Xinjiang, but email to whom? If you're wondering why you haven't yet received an something from your friend, colleague or family member in Xinjiang, this is why.
Lackluster PR
There is one more thing that the AFP and many people don't realize about this situation. While Twitter, Facebook, and international publications may be buzzing over this "breaking news", the truth is many people in Xinjiang aren't aware that they can send and receive emails.
Every time I break this wonderful information to my friends here they first go through a moment of disbelief ("I don't think you're right") and then slowly transition to shock ("Really?! I didn't know that!"). The government has done a superb job of leaking the information to the international community who will blindly regurgitate it, as the AFP and others have proven.
Unfortunately, they forgot to tell the people of Xinjiang, who received little more than a couple short news releases.
It's going to take a while for email to catch on again in Xinjiang, especially if everybody has to build their address book from scratch.
UPDATE: On May 14th, 2010 the internet – including email – was restored to the province. Read more about Xinjiang's internet restoration.
Sources:
AFP (Sydney Morning Herald): China's Xinjiang Restores Access to Email, Websites
Tianshannet (Chinese): 我区互联网和通信短信息业务进一步开放
**This article is presumably the one the AFP translated to write their misleading report
ChinaDaily: Email service resumed in Xinjiang 8 months after riot