At 10:30am on Thursday morning, August 19th, a Uyghur man in Aksu, Xinjiang threw a bomb into a group of people while riding his motorized tricycle. According to reports, 7 people have died and 14 more are injured. The man responsible for the attack was injured but survived and is now under arrest.
*This article has been updated. See all notes below for most recent news*
The Aksu Bombing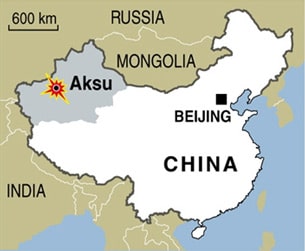 The press has jumped on this story with lighting speed which has resulted in more than a few discrepancies between accounts. Reuters claims that the people injured were all paramilitary while The Guardian describes it as "a crowd". AFP quotes a government spokesman as saying that most of the victims were Uyghur. One thing they all agree on is the number of people hurt, and they type of vehicle (a three-wheeled vehicle seen in this picture).
The Xinjiang government, seemingly better prepared for such an event following the riots last year, has responded with a hasty news conference and – to the surprise of many – interviews.
The BBC was able to interview a government official (listen for the interview at around the 10min mark) who said:
Since the case is under investigation, the reason for these attacks is currently unknown. We will release more information after the investigation has ended.
According to some reports, martial law has been enacted in Aksu, but a government spokeswoman has denied this. What the government has been able to do is suppress the dissemination of images from the attack, if there are any. Many reports, including those by the RFA and the Los Angeles Times have used stock photos because there is nothing else to use.
History of Unrest in Aksu
As is the case in most every city in Xinjiang, this isn't the first time there has been unrest in Aksu. Two bombs went off in Aksu in July 1994 following the implementation of "family planning and birth control" experiments that didn't settle well a Uyghur population that was used to large families.
Interestingly, Aksu has also been home to Han demonstrations. Back in 1979 and 1980, over 5,000 to 6,000 Han 'educated youth' from Shanghai occupied the local administrative offices for 50 days. They had been brought to Xinjiang to work in the Bingtuan but were unhappy and ready to go back home.
Terrorism or Criminal Act?
It has yet to be determined whether this will be classified a terrorist act or a criminal act.
Currently it is being handled as a criminal case, according to a government spokesman. Considering the nature of the crime (a single man, home made explosives) it should likely stay that way, but only time will tell.
It sucks to say this, but this is just another image of Xinjiang that the international press has been happy to run. As long as the public only hears this kind of news, it's no wonder people are somewhat nervous about coming to Xinjiang.
—————————————————————
Update 8/21: The AFP reports that there were actually two suspects – a man and a woman. The woman, who was allegedly also throwing bombs, was killed during the incident (although it's not clear whether she was included in the death toll).
Update 8/21: RFA reports that the police killed in the attack were known to have "…harassed ethnic Uyghurs, singling out men with beards and women wearing traditional head coverings, according to police sources." The report also states the time of the attack as being 8:30am, although it's likely that this is Xinjiang time, not Beijing time.
Update 8/26: Reuters reports that four people have been detained in connection with this bombing. Also noted is a correction that 6 people died and 15 were injured.