The Kyrgyz Mother from Karakul Lake
November 21, 2008
3 Comments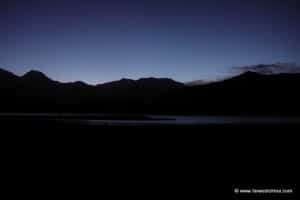 The sun patiently rises as it does every morning, painting the sky with varying shades of blue while creating dark silhouettes of the Pamir Mountains reflected on Karakul Lake below.  At the base of the Muztagh Ata, the largest of these Pamir, a small village is already awake and far too accustomed to these dramatic natural scenes to take any special notice today.
Officially the land upon which this breathtaking scene has unfolded belongs to China, a portion on the western tip of Xinjiang, but you'd never know by looking around. Every one of the less than 200 inhabitants of this village claim heritage from Kyrgyzstan, one of the countries on the other side of these tall peaks, and most of them will be herding cattle today just as their ancestors did centuries ago.
A Kyrgyz Woman: Wife / Mother / Servant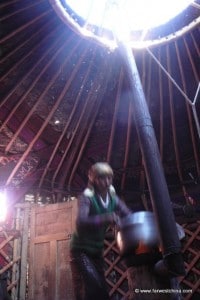 Among these people is a young Kyrgyz woman named Cholpon who was born and raised not even five kilometers from this lake.  At the tender age of 25 she has already given birth to three children, the oldest being seven years old, all of whom currently live with their grandmother in a nearby village while Cholpon works hard with her husband to help sustain the family.  Her sharp, blue eyes are the only evidence of youth hidden behind layers of leathery skin, tanned and slightly wrinkled from years of outdoor physical labor.  Her clothes are well-worn and old yet warm enough to endure the cold will soon come over this area during winter.
I watch intently from a distance as she non-chalantly fetches a heavy bucket of fresh water from Karakul Lake in order to make breakfast.  MY breakfast, that is.  It's hard to believe, but I just woke up from a night spent sleeping at the foot of a beautiful mountain in a yurt, a tradiational dwelling not quite as permanent as a home but much more sturdy than a tent.  Made entirely by hand, this yurt took all of three hours for Cholpon's husband to set up and features wool coverings, a lockable wooden door, and a cooking stove fueled by wood and cattle patties.  When completely disassembled this home can be carried by a single donkey or horse, the perfect solution for this once nomadic people.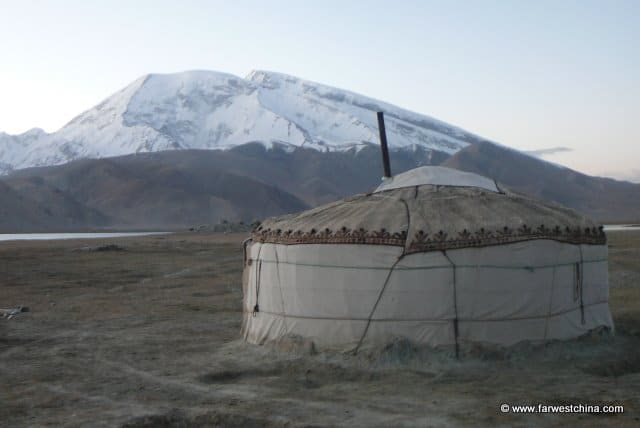 Instead of roaming the countryside like their ancestors, though, these Kyrgyz people now earn part of their living by hosting adventurous foreigners like me and my wife.  During our stay here they have provided us with warm housing and good company topped off by a traditional meal cooked by Cholpon herself.
Breakfast in a Yurt
Breakfast this morning before we leave is just icing on the cake.  Upon entering the comfortably warm yurt I find that she has almost finished preparing our morning snack and my wife has completed her morning routine.  Cholpon has been too shy to look at us much since our arrival and the fact that she doesn't speak English or Mandarin has made communication difficult, but there is a beauty in her eyes and face that draws us to her.
She seems thrilled when we ask her to sit down and eat breakfast with us.  For ten short minutes we converse using the universal language of hand motions, mostly talking about her children, permitting us our only glimpse of her smile as she excitedly shows us a picture.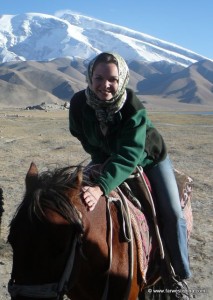 As quickly as the smile came, it vanishes, and she nervously leaves us to finish her chores the moment she hears the footsteps marking the arrival of her husband.  He's a calm man, not abusive by any means, but I'm now learning that this male dominated-culture frowns upon her socializing with other males like me, especially when we're foreigners.
He has been very good to us, taking us on a horseback ride to his village, sharing with us a brief history of the area, and answering all our questions, but interestingly he has made no effort to include his wife in our interactions.
A Kyrgyz Carpet
We pack our pack our bags to put in the trunk, but before we leave, our friendly host has one more thing to show us – a small wool carpet hand-woven by his wife.  Cholpon proudly displays her work to us and it's all we can do to keep from buying each piece.  We've spent only 10 meaningful minutes with this woman and yet we desire something to remember her by, a small token of her life's work to be appreciated for years to come.
As we shut the car doors to return to Kashgar, I am able to meet eyes with her one last time knowing that once we drive away we will never see her again, yet she will still continue to work and serve and miss her children.  Oddly, I can see no trace of unhappiness or regret in her eyes.  She works hard and loves her family just like many other mothers do, and she is proud to do so even if it is in a very small village on the edge of Xinjiang. This is her life – the only life she has ever known – and she is content.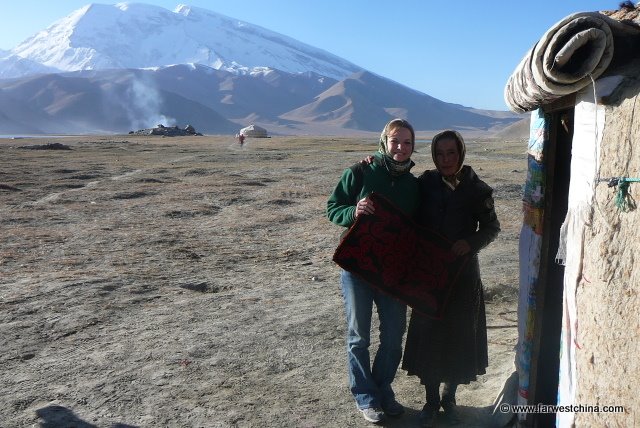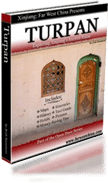 Like what you read?
If so, join over 1,000 others who receive exclusive updates on Xinjiang, plus get a FREE copy of the Turpan Travel Guide! Sign up here: